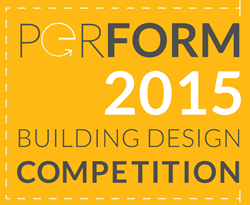 "Each member of our jury brings a unique background and set of expertise to the deliberation," said Sam Hagerman, co-owner of Hammer & Hand and perFORM 2015 jury member.
Portland, OR (PRWEB) July 08, 2015
Jury deliberations are now underway for perFORM 2015, Hammer & Hand's second annual building design competition. The jury, comprised of northwest architectural professionals, will judge over 50 entries from architecture students and interns from all over the US and Canada. Submissions will be judged based on the criteria of resourcefulness, replicability, and beauty. $6,000 in prize money will be distributed among competition winners.
(Visit http://hammerandhand.com/perform/design-competition/ for details about the competition.)
Though Hammer & Hand is a general contractor that does no design in-house, the company collaborates with architecture or design firms on every project it builds. Hammer & Hand created the perFORM competition to support the next generation of architects in its exploration of the nexus between high performance building and high design.
This year's jury is packed with heavy-hitters from the northwest architectural community.
"Each juror brings a unique background and set of expertise to the deliberation," said Sam Hagerman, co-owner of Hammer & Hand. "We're excited to review the designs that these up-and-coming architects have put together."
The perFORM 2015 jury includes:
Randy Gragg, Director, John Yeon Center - Randy is a longtime journalist and organizer in the fields of architecture and art. He founded Portland Spaces, served as Editor-in-Chief for Portland Monthly, and was an art and architecture critic for The Oregonian. In 2006 he was awarded the Loeb Fellowship from Harvard University's Graduate School of Design. He now serves as the board president for Halprin Landscape Conservancy and is the executive director of the John Yeon Center for Architecture and Landscape Studies.
Jim Graham, Principal, Graham Baba Architects - Jim started his own firm in Seattle in 1999 and has been working in architecture for twenty years. He is committed to the craft of building and is active in the local design, construction, and craftsman community. He is an award-winning architect and is actively involved in the AIA, chairing the Honor Awards in 2012. As an architect, Jim brings an exceptional ability to create social opportunities within each space for a variety of users. Jim's enthusiasm for each project is catching, resulting in a fun and fast-paced design process.
Sam Hagerman, Owner, Hammer & Hand - Sam has worked for 30 years as a builder, business owner and high performance building proponent. In 1995 he co-founded the contracting firm Hammer & Hand, emphasizing sustainability in the built and work environments. Sam is also active in the national and local policy arenas, and served as the inaugural president of the Passive House Alliance US. Sam has overseen the construction of high performance building projects stretching from Newberg, Oregon to Seattle, Washington, including net zero projects Karuna House, Pumpkin Ridge Passive House, and Madrona Passive House.
Cory Hawbecker, AIA, CPHC, Associate and Sustainability Coordinator, Holst Architecture - Since joining Holst Architecture in 2005, Cory has been a strong advocate for sustainable building practices. Cory was project architect on Karuna House, the first building in the world to achieve the triple crown of Minergie, Passive House PHIUS+, and LEED Platinum certifications. He is currently serving as the project architect of the One North Development, a pair of office buildings with a groundbreaking design that achieves exceptional energy efficiency through high performance enclosures and mechanical systems. Founded in 1992, Holst is an award-winning architecture and design firm that specializes in multifamily and student housing, educational facilities, commercial buildings, and hospitality.
Peter Keyes, Associate Professor, Department of Architecture, University of Oregon (perFORM 2015 Advisor) - Peter earned his BA from Harvard University and his Masters of Architecture from Columbia University, and is licensed in New York. Prior to joining the UO faculty in 1990, he was a Senior Associate at Steven Winter Associates Inc. His academic interests center on housing, building technology, and place, and he maintains a small practice in residential design.
Gladys Ly-Au Young, Principal, Sundberg Kennedy Ly-Au Young Architects - Gladys brings a deep understanding of sustainable design as well as sensitivity to context and place to her work. As a founding principal of Sundberg Kennedy Ly-Au Young Architects in Seattle, she is committed to design excellence and works closely with clients and stakeholders to help guide them through the design process, ensuring ideas are translated gracefully to drawing documents. She is adept at working on a wide range of projects and spaces, from the intimate complexities of a residence to more expansive ideas of adaptive reuse and urban design, all the while creating work that is environmentally sensitive, elegant, and functional.
Carrie Strickland, Principal, Works Partnership Architecture - Carrie has built an extensive background in adaptive re-use and speculative development while advocating for design as the basis for urban interventions. She has served as visiting professor at Portland State University and the University of Oregon. Carrie regularly serves on forums and lecture panels discussing design in the Pacific Northwest; has served on the board of directors for the AIA Portland chapter; was chair of the City of Portland's Development Review Advisory Committee; and is a co-founder of Cityscope, a non-profit platform with a focus on multi-discipline urban fabric and design.
The perFORM 2015 jury will announce competition winners on the evening of Thursday, August 6, at American Institute of Architects Portland, in conjunction with Hammer & Hand's high performance building exhibit there, "Evolution of Enclosure." To view last year's winning entries, visit: http://hammerandhand.com/perform/design-competition/perform-2014/
About Hammer & Hand
Hammer & Hand is dedicated to inciting evolution in building through service, science and craft. The firm collaborates with clients and architects to build the best of Portland and Seattle, from commercial tenant improvements, to classic remodels, to high performance new construction.