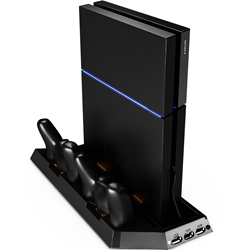 We've been able to achieve the #1 best selling in multiple categories on Amazon
New York (PRWEB) June 16, 2015
The Ortz PS4 Stand has beat all odds to emerge one of the most popular PS4 cooling stands in the market. Recently, the stand hit the number one slot on Amazon, the world's premier online retail marketplace.
Ortz has just announced that their pioneer product, the PS4 vertical stand with cooling fan, has been ranked an Amazon best seller in multiple categories. This is considered a significant milestone for a product that's barely 6 months old in the market.
The PlayStation 4 is currently the world's top video gaming console, challenged only by the Microsoft Xbox One. When the console was launched more than 14 months ago, critics were keen to match it with previous models of the PlayStation to champion its pros and critique its cons.
The PS4 was an instant hit from the beginning, attracting meandering queues of buying customers right from launch day. But this couldn't be interpreted to mean that the console was without its shortcomings. Among other issues, rampant overheating has been one of the most widespread problems facing Sony's flagship video gaming device.
The Ortz PS4 vertical stand was designed to address the PS4's overheating issue, while at the same time providing other functionality that would make it a must-have accessory for hardcore gaming buffs. One of the most remarkable things about this PS4 stand and cooling accessory is that it provides a three-fold benefit to users.
In addition to working as a vertical stand, it's also a PS4 fan and more so a dual charging station for the console's DualShock 4 controllers. This multi-in-one design is one of the key features that has distinguished Ortz's accessory from similar products in the market.
The new best-seller status on Amazon, the world's premier online retail marketplace, unlocks new opportunities for the emerging brand. Ortz has indeed recorded an ever steepening growth curve on Amazon, beating the competition's products at their own game. The stand's multi-functionality, coupled by a rather affordable price and increasingly reputable brand name, are some of the factors that have made this product a top grossing accessory.
Steve Harris, Ortz marketing co-coordinator, said "It's been an incredible journey for us. From the initial stages of formulation and design, we always knew that our vertical stand accessory would be a game-changer. There was the need to seal loopholes that available products in the market were not addressing, and the entire team was 100% determined right from day one.
Within 72 hours post-launch, and with little marketing, we managed to sell over 479 units, and this was a clear indicator that this product truly addressed users' needs. We are now more than glad that our stand has been rated a best-seller in multiple Amazon categories. More so, it ranks on the top slot on Amazon for most keywords related to PS4 stand and PS4 fan. We'd like to thank our customers and all Ortz fans for making this happen.
If you still are new to the Ortz PS4 stand, you can watch our YouTube review video or check out our brand website, ortzproducts.com. Stay tuned as we've got much more coming in the next few weeks."
Links Below:
Official Website: http://www.ortzproducts.com/PS4-Vertical-Stand-Cooling-Fan
Amazon: http://www.amazon.com/PS4-Vertical-Charging-Controllers-PlayStation-4/dp/B00TEDK8FQ
Youtube Review: https://www.youtube.com/watch?v=TPthGpl8e04