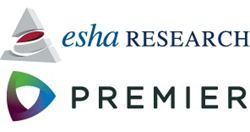 Salem, OR (PRWEB) July 21, 2015
ESHA Research has been awarded a group purchasing agreement for Foodservice Management Software and Transaction Processing Systems with Premier, Inc. The new agreement allows Premier members, at their discretion, to take advantage of special pricing and terms pre-negotiated by Premier for ESHA's Food Processor Nutrition Analysis Software.
"The partnership is truly beneficial for both ESHA and Premier," said Stephanie Ulrich, marketing manager for ESHA Research. "We get access to a huge market and the Premier members will have the opportunity to purchase our software at a lower price. This is two industry leaders working together to ease the purchasing process, and, ultimately, to help people."
For more than 30 years, The Food Processor has been the go-to program for nutritionists and dietitians all over the world to provide their clients with accurate and quick diet analysis, menu planning, fitness assessment, and exercise programs. The program includes ESHA's extensive and meticulously-researched ingredient and recipe database and a variety of dietary intake reports.
About Premier, Inc.
Premier, Inc. is a leading healthcare improvement company, uniting an alliance of approximately 3,400 U.S. hospitals and 110,000 other providers to transform healthcare. With integrated data and analytics, collaboratives, supply chain solutions, and advisory and other services, Premier enables better care and outcomes at a lower cost. Premier, a Malcolm Baldrige National Quality Award recipient, plays a critical role in the rapidly evolving healthcare industry, collaborating with members to co-develop long-term innovations that reinvent and improve the way care is delivered to patients nationwide. Headquartered in Charlotte, N.C., Premier is passionate about transforming American healthcare. Please visit Premier's news and investor sites on http://www.premierinc.com for more information about the company.
About ESHA Research
ESHA Research, founded in 1981, offers a variety of nutritional analysis solutions for all facets of the nutrition and food industries. Our software programs and databases have been used all over the world, by food manufacturers, educational facilities, restaurants, healthcare facilities, and other industry institutions for nutrient analysis, labeling, product development, regulatory compliance and more. In addition, ESHA Research offers software and regulatory compliance consulting and label-generation services. For more information, visit http://www.esha.com, email sales(at)esha(dot)com, or call 503-585-6242.