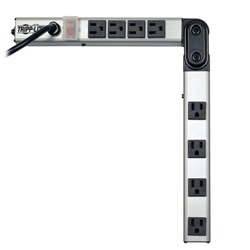 Users can bend the power strip at 12-inch intervals to more closely fit their specific application, and then make adjustments as their needs change
Chicago, IL (PRWEB) June 16, 2015
Tripp Lite, a world-leading manufacturer of power protection and connectivity solutions, has expanded its popular line of bench/cabinet power strips to include 24- and 36-inch foldable models that have a pivot point every 12 inches. The pivots allow users to bend the power strips around corners and configure them for small spaces. The new foldable power strips provide up to 12 outlets and are ideal for powering devices belonging to multiple users in office, workbench, industrial and telecom applications.
The center-to-center outlet spacing varies with each segment of the power strip to accommodate device plugs, AC adapters and transformers without blocking adjacent outlets. Extra mounting clips are included to secure the pivots in vertical and horizontal mounting installations.
Key Features:
-- 24- and 36-inch foldable models with pivot points at 12-inch intervals
-- Up to 12 outlets with spacing to accommodate device plugs, AC adapters and transformers
-- Vertical and horizontal mounting capability
-- All-metal housing with extra-long 15-foot cord
-- 15-amp circuit breaker and lighted, covered switch to eliminate accidental shut-offs
"As the first power strips with pivot points, our new foldable models are a creative and innovative addition to our growing line of bench/cabinet power strips," said Karenann Brow, Tripp Lite Director of Product Marketing. "Users can bend the power strip at 12-inch intervals to more closely fit their specific application, and then make adjustments as their needs change."
For more information on the new bench/cabinet power strips, visit: Tripp Lite Foldable Power Strips with Pivots
About Tripp Lite
Outstanding product reliability and exceptional service have been Tripp Lite trademarks for over 90 years. Tripp Lite´s innovations include the world's first UPS system designed specifically for personal computers and the world's most trusted premium surge suppressor—the Isobar®—with more than 19 million in use. Tripp Lite maintains the highest level of ready-to-ship inventory in the industry with more than 3,000 different products, including UPS systems, rack systems and cooling solutions, PDUs, PowerAlert software for enterprise-level system management and control, surge suppressors, KVM switches, cables and connectivity products, inverters, power strips and notebook accessories. Headquartered in Chicago, Illinois, Tripp Lite maintains a global presence with fully staffed offices worldwide. Additional information, including a list of Tripp Lite's sales offices and authorized reseller partners, can be found by visiting Tripp Lite's website: http://www.tripplite.com.