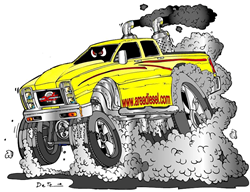 The horsepower contests will be the highlight of the day. Diesel owners love to show off their rigs, and we love to see who can bring the real heat.
Des Moines, Ia. (PRWEB) June 16, 2015
Area Diesel Service, Inc. recently announced it will host the 2015 Horsepower Expo & Open House on Saturday, June 20 at the Area Diesel shop—1440 Northeast 56th Street, Pleasant Hill, Iowa 50327. The event is free to the public and is loaded with activities and entertainment for experienced diesel professionals, horsepower enthusiasts and fun-seeking families alike. As in years past, the 2015 expo will be a celebration of big-time horsepower, though Area Diesel Service Iowa Branch Manager Corey Stallings promises even more fun this time around: "After a 5-year hiatus, our crew plans to pack all the action we missed into a single, day-long bash! We figure we owe it to all our fellow diesel lovers who asked us to bring it back this summer."
The annual expo lets vendors exhibit the latest diesel power products and services, and it also marks an opportunity for attendees to put their trucks and cars to the test in an open-call horsepower competition. "As much as I love talking engines and parts with people who drop by our exhibit,' said Stallings, "there's no denying the horsepower contests will be the highlight of the day. Diesel owners love to show off their rigs, and we love to see who can bring the real heat."
The diesel performance specialists at Area Diesel have teamed with key event sponsors—Diesel-Up, Midwest Truck Products, American Radiator and Deery Brothers Chevrolet—to offer cash prizes for the horsepower contests. Up to $1,000 in cash and prizes will be awarded to contest winners in four categories: High Horsepower GM, High Horsepower Ford, High Horsepower Dodge, and Highest Horsepower Overall. With cash on the line this year, contestants can shoot for more than simply the envy of their peers.
Powerhouse Mobile Dyno will provide a sophisticated dynamometer to test and verify the high horsepower marks for each category. The contest is open to 35 participants, and entry fees are $75, which covers two attempts on the dyno and a limited-edition t-shirt to commemorate the day. Pre-registration for the contest is open now via the Area Diesel Service website.
In addition to watching or joining the horsepower competition, attendees can learn new ways to increase diesel power and performance. They will have access to experts from Borg Warner Turbo Systems, Agricultural Diesel Solutions, Truck Edition, Magnum Quality Replacement Parts and more to learn about turbochargers and other performance products. The expo will also feature numerous giveaways, live music by Joe Inman & Co. and delicious food, served county fair style, by Marcia's Sweet Treats.
Asked what else to expect at the 2015 Horsepower Expo & Open House, Stallings replied, "Let's not forget the number one draw that brings so many people out: the chance to check out lots and lots of powerhouse diesel trucks!"
For more information on the Horsepower Expo or on Area Diesel Service, visit the company website or contact Corey Stallings at CoreyS(at)areadiesel(dot)com. To read the latest news and information on diesel power products, visit the Well Revved blog at areadieservice.com/blog, or follow Area Diesel on Google+, Facebook, Twitter and Instagram.