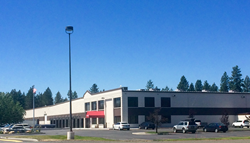 Spokane, WA (PRWEB) June 18, 2015
Unicep, a leader in specialized liquid and gel contract manufacturing and packaging, announced today that it has recently re-located their shipping, receiving, and administrative offices from their Liberty Lake, WA location to a larger facility in Spokane, WA. The decision to re-locate illustrates Unicep's commitment to managing growth and supporting our customers. The new facility has administrative offices, multiple loading docks, warehouse, production space, and is strategically located near the interstate and approximately 5 miles from the Spokane International Airport. With combined space between our Sandpoint, ID facility and the new Spokane location, we will greatly expand our manufacturing and packaging capacity, allowing us to support current and future business growth.
About Unicep
Formed in 1992, Unicep is recognized in the industry for new product development, custom blending & manufacturing, contract filling, and unique blow-fill-seal single use packaging for cosmetic & personal care, oral health care, OTC, animal health, and medical device & diagnostic markets.
Unicep provides customers with a full range of specialized liquid and gel product solutions to meet their manufacturing and packaging requirements. With our continued investment and expertise in blow-fill-seal technology, we deliver solutions that ensure a successful product launch in a highly competitive marketplace.
--------------
Corporate Headquarters & Manufacturing: 1702 Industrial Drive, Sandpoint, ID 83864
Shipping & Receiving, Sales & Marketing: 4122 S. Grove Rd., Spokane, WA 99224
Certifications: FDA registered, ISO9001, ISO13485 and cGMP certified