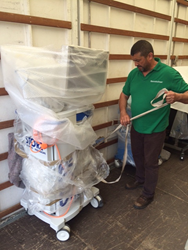 A commercial move of this size and complexity doesn't come along very often. This one had the added element of moving entire hospital departments.
Cramlington, Northumberland (PRWEB UK) 17 June 2015
At 6am on Tuesday, June 16, 2015, the doors of the new £75m Northumbria Specialist Emergency Care Hospital in Cramlington opened to patients for the very first time. Work began on the site back in early October 2012, when ground was broken by the Duchess of Northumberland, driving a JCB. It has now been successfully completed, on time and on budget.
The new hospital is the first in the country dedicated to providing emergency care with A&E consultants working 24/7 to care for seriously ill or injured patients, and a lot of material and equipment had to be moved from three existing hospitals in Northumberland – Wansbeck General Hospital in Ashington, North Tyneside General Hospital in North Shields, and Hexham General Hospital.
The task of moving many thousands of items from these three sites, everything from highly sensitive and extremely expensive pieces of equipment right down to bins and chairs, fell to commercial mover, Quicksilver, based at their state-of-the-art facility in Throckley. Having won the contract, Joanne Ball, Commercial Business Manager, took on the daunting job of scheduling when each item from each department would be moved, and then ensuring that she had Quicksilver resources in the right place at the right time.
Across the seven days allocated for the move, eight Quicksilver trucks made over 100 journeys between the four hospitals. Each member of the 45-strong team walked between 8 and 10 miles a day carrying, wheeling and barrowing the contents of departments such as Maternity, Critical Care and Accident & Emergency, to ensure all was ready for the opening. Like the construction of the hospital, the move was also completed on time and on budget.
From now on, Accident & Emergency services will be provided at the new hospital in Cramlington, where emergency care consultants are on duty 24/7 and specialists in a range of conditions are also working seven days a week. This frees up the Wansbeck, Hexham and North Tyneside general hospitals to provide "planned care" in a more focused and efficient way. All three general hospitals will now offer a 24-hour walk-in service for urgent but less serious conditions.
Joanne Ball said, "It was an exciting challenge, and something of an honour, to work on such a high profile project. A commercial move of this size and complexity doesn't come along very often. This one had the added element of moving entire hospital departments without disrupting the work of those departments, and the vital care they give to patients. The A&E move was the most difficult, due to the unplanned nature of A&E admissions, and we did it in the early hours of Tuesday morning, starting just after midnight, over one of the quieter periods of the week."
David Collard, Managing Director, added, "I'm extremely proud of everyone who worked on the move, and delighted that we played such a key part in the successful opening of this new hospital."