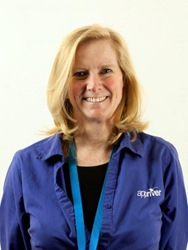 We value all of our partners and want to make sure they capitalize on high-growth opportunities by aligning themselves with leading technology solutions, explains Philips.
Gulf Breeze, FL (PRWEB) June 16, 2015
AppRiver, LLC, a leading provider of email messaging and Web protection solutions, today announced that Robyn Philips, senior channel sales advisor, has been named to The Channel Company's prestigious 2015 CRN® Women of the Channel. The annual list honors outstanding female executives across vendor channel organizations, distributors, solution providers and other women prominently involved in the IT channel ecosystem for their successes and the far-reaching impact they are having on the technology industry going forward.
This year's Women of the Channel were carefully reviewed and selected by the editors of CRN based on their accomplishments and the influence they wield over the technology channel.
Philips, who joined AppRiver eight years ago, has been instrumental in growing the channel from just a few hundred partners to more than 2,500 partners worldwide. 2014 was a banner year for AppRiver, marking its largest year-over-year increase in channel revenue. Philips attributes that growth in part from a renewed focus on relationship management and a growing relationship with Microsoft.
"It's easy to understand how committed we are to partner success when more than half of the company's overall revenue is driven by the channel," said Philips. "We value all of our partners and want to make sure they capitalize on high-growth opportunities by aligning themselves with leading technology solutions."
As part of the company's mission to strengthen customer relationships, in 2014, AppRiver began participating in the Microsoft Cloud Solution Provider Program. This allowed AppRiver to expand cloud sales opportunities by enabling partners to provide direct billing, sell combined offers and services, as well as directly provision, manage and support products and services.
Looking ahead, Philips will help roll out a number of new partner perks in 2015 that will help partners sell more efficiently. These diversified programs are designed to fit the unique needs of partners and customers and include partner certification, training courses and additional go-to-market opportunities.
Additionally, AppRiver will continue to offer its award-winning Phenomenal Care™ allowing partners to focus more on creating healthy profit margins.
"We are proud to see Robyn recognized for the significant contributions she has delivered to our customers and partner community," said Jeff Malone, vice president of sales, AppRiver. "Robyn's commitment to finding the best resources for our partners undoubtedly contributes to AppRiver's success in our partner program."
"These executives have made a lasting mark on the industry, expanding the breadth of influence in the technology channel," said Robert Faletra, CEO, The Channel Company. "We congratulate the Women of the Channel, and celebrate their innovative contributions and commitment to the IT channel community."
The Women of the Channel will be featured in the June issue of CRN, and online at http://www.CRN.com.
About AppRiver
AppRiver is a Software-as-a-Service (SaaS) provider offering award-winning email and Web security solutions to businesses of all sizes. Understanding the need to protect networks from today's increasingly complex IT threats, AppRiver offers businesses a comprehensive, yet affordable subscription-based solution that incorporates the latest spam and virus protection, email encryption and Web security on the market. In addition, the company provides a complete managed service for Microsoft Exchange, as well as a bundled Office 365 solution. Since its inception, AppRiver has sustained an impressive 93% customer retention rate while growing its customer base to more than 47,000 companies and 8.5 million mailboxes worldwide. The company maintains offices in Florida, Georgia, Texas, New York, Switzerland and Spain, and is led by an Ernst & Young Florida Entrepreneur of the Year award winner. For more information, please visit ww.appriver.com.
About The Channel Company
The Channel Company, with established brands including CRN®, XChange® Events, IPED® and SharedVue®, is the channel community's trusted authority for growth and innovation. For more than three decades, we have leveraged our proven and leading-edge platforms to deliver prescriptive sales and marketing solutions for the technology channel. The Channel Company provides Communication, Recruitment, Engagement, Enablement, Demand Generation and Intelligence services to drive technology partnerships. Learn more at http://www.thechannelcompany.com.