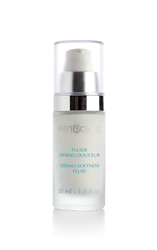 ...soothing formula to protect sensitive skin from irritation caused by environmental aggressors such as pollution
SAINT- MALO, FRANCE (PRWEB) June 17, 2015
Phytocéane introduces DERMO-SOFTNESS FLUID, a soothing formula to protect sensitive skin from irritation caused by environmental aggressors such as pollution, wind, sun, smoking, stress and unsuitable cosmetics. Star ingredient OcéaDiam®, known as the "soothing gem of the sea," combats stress-triggered inflammation to reduce redness and diminish the sensations of tightness, tingling and heat. Rubimarin®, known as the "moisturizing gem of the sea" rehydrates and remineralizes the skin. Complementary ingredients Allantoïn, Vitamin B5 and Coralline concentrate join forces in a unique "softening cocktail" to calm and heal the skin while bolstering it against external stressors. DERMO-SOFTNESS FLUID has a fresh and delicate scent featuring rose and orange blossom. It has an ultra-light, serum-like texture and an imperceptible finish and leaves skin soothed, softened and relieved.
DERMO-SOFTNESS FLUID, 30 ml, suggested retail price $57.50
Directions for use: Apply morning and/or evening to entire face and neck.
Key Ingredients:

OcéaDiam® - known as the "soothing gem of the sea." A 100% pure extract of labortory-cultivated white microalgae Gephyrocapsa oceanica. Remarkable protective qualities.
RubiMarin® - known as the "moisturizing gem of the sea." Extracted from laboratory-cultivated red algae Jania Rubens. Moisturizing and remineralizing.
Allantoïn - boosts cell renewal. Healing, soothing and softening properties.
Vitamin B5 - known as the "anti-stress vitamin." Restores the barrier function of the skin. Guards against Vitamin B5 deficiency, a factor underlying many skin conditions.
Coralline Concentrate - vasoconstrictor action. Decreases redness and improves cell oxygenation.
Impressive Results:
More Protection from External Stress: +72%*
*Evaluation by a clinician, after 28 days of twice-daily application. % of variations on averages obtained at D0 and D28
Phytocéane at a glance:
When exploring the secrets of Phytocéane you will discover a natural, marine brand that reveals precious JEWELS OF THE SEA and sets itself apart as a true treasure in the spa industry. Nestled in the heart of the Emerald Coast in France,Phytocéane embodies the region's timeless tradition of travel, escape and discovery. This professional, naturally-based facial and body care line utilizes resources and ingredients found in the most pristine, beautiful seas around the world.We are one of the only spa brands with our own laboratory, allowing us to research and cultivate our own ingredients,develop unique cosmetic formulas, manufacture skin care products and create cutting-edge professional treatments to deliver remarkable results.