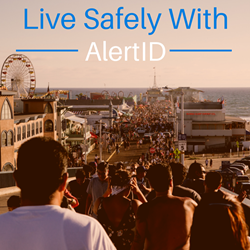 We encourage all parents to take necessary precautions to make this summer vacation safe for them and their children.
Las Vegas, NV (PRWEB) June 16, 2015
As parents pack their bags for that long awaited family vacation, AlertID, the nationwide safety network, offers tips that will help make every trip a safe and wonderful success. At AlertID, our intent is to provide members with trusted public safety alerts, including safety tips for parents and their children as they hit the open road this summer.
According to AAA, because of lower gas prices than years past, this could be the year of the summer road trip. "Family vacations should be fun and memorable," said AlertID Founder, Keli Wilson. "We encourage all parents to take necessary precautions to make this summer vacation safe for them and their children."
Please review the Summer Safety Travel Tips from the AlertID team:

Quick Review: Review safety rules with kids before leaving home, such as cell phone numbers and what to do in case they become separated from the group.
Beat the Heat: Heat related injuries are 100 percent preventable. Keep hydrated and don't wait until you're thirsty to drink. The three items every traveler should have are insulated water bottles, healthy snacks (fruits and vegetables) and extra sunscreen.
Buddy System: Children should always be accompanied in public facilities. Implement a strict buddy system for older children to prevent the kids from encountering dangerous situations. Also, dress kids in bright colors that are easy to remember and recognize in a crowd.
Buggin' Out: If outdoor adventures are on the itinerary, then you're bound to encounter some creepy crawlers. Insect repellent is the best method of keeping bugs at bay, but if someone does get bitten or stung, apply a cold ice pack and take an over-the-counter pain reliever.
Beach Bummin': Drowning is among the most common causes of injury-related deaths among children ages 1 to 14. Nearly half of all boating deaths could be prevented with the use of U.S. Coast Guard approved life jackets. It is very important to be within "physical touching" distance of young children when visiting the beach.
Become a Member: AlertID provides public safety alerts to families in more than 85 percent of U.S. zip codes. When it comes to safety, people want to stay informed about threats to their families. When people know more, they can make smarter decisions and have peace of mind. Become a member today by visiting http://www.AlertID.com.
About AlertID
AlertID, the neighborhood safety network, is free to use and helps protect families and neighborhoods. AlertID's mission is to help people live safely by providing a secure way to receive trusted public safety alerts and share information with family members and neighbors. AlertID uses technology to help citizens and federal, state and local authorities share information about crime, sex offenders, natural disasters, missing children and severe weather that can threaten public safety. AlertID is accessible to members online as well as by email and mobile app. For more information visit http://www.AlertID.com.