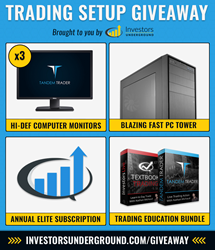 (PRWEB) June 16, 2015
Investors Underground, day trading community and education service, has announced the launch of The Ultimate Day Trading Computer Giveaway. In an effort to help new traders launch their trading careers, Investors Underground will be giving away a bundle of tools designed to help new traders break into the world of day trading. Nathan Michaud, head moderator of the trading chat room, states, "Day trading has opened up so many possibilities for me. I'm looking forward to this giveaway because it gives new traders the chance to jumpstart their careers."
The Ultimate Day Trading Computer Giveaway will run until June 23, 2015 and one winner will be chosen to receive prizes valued at $7,500.
The winner will receive:
1 Blazing Fast Day Trading Computer
3 High-Definition Computer Monitors
The Tandem Trader Education Course
The Textbook Trading Education Course
A 1-Year Elite Subscription to Investors Underground
The Ultimate Day Trading Giveaway is open to the public and entrance takes less than one minute. This giveaway operates like a raffle, where entrants get "tickets" for a random drawing that will take place on June 23, 2015. Giveaway entrance is 100% free and entrants have the opportunity to get multiple entries by referring friends.
Investors Underground has been helping day traders refine their skill sets since 2008. Nathan Michaud proclaims, "We are always excited to help new traders get started. It's very rewarding to get to see the progress of the traders in our community. This giveaway provides new traders with the opportunity to break into the world of day trading with everything they need to become successful. We're really looking forward to the outcome!"
For more info about Investors Underground, click here.
To enter The Ultimate Day Trading Computer Giveaway, click here.