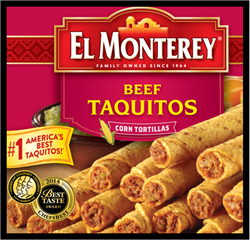 Our mission is to guide consumers to the best tasting brands
San Diego, CA (PRWEB) June 16, 2015
ChefsBest®, a chef-based food judging organization, announced that El Monterey Frozen Taquitos earned the Best Taste Award in a recent sensory competition. The independent study was conducted by the professional chefs on the ChefsBest panel. The taquitos were judged on various attributes including appearance, aroma, taste, flavor and texture.
"Our sensory evaluations (taste tests) are conducted blind. We never know which brand will win," said Janet Williams, Sensory Projects Director at ChefsBest. "The chefs are trained to objectively measure the sensory characteristics of the samples, and then we analyze the data to determine which product tested is statistically superior in overall quality to its competitors. There are times when no product wins."
The expert panel at ChefsBest are all executive level chefs who have passed a challenging palate acuity test. This initial screening ensures each chef's taste buds are capable of picking up the subtle nuances between flavors. Only about two-thirds of chefs pass the palate acuity test. The chefs who do pass the initial screening then receive additional training in the science of sensory evaluation before sitting on the ChefsBest panel.
"Expert panels can produce unique ad claims," said Williams. "The ChefsBest ad claims including 'America's Best' and 'Best Tasting' are all substantiated by the data our expert panel produces. This allows winning brands to make superiority claims in all of their marketing materials."
While judging leading brands of taquitos, the ChefsBest expert panel measured more than 40 attributes including crispiness and a variety of flavor intensities including meat, cheese, onion and garlic. El Monterey's products scored highest in overall quality on all four flavor flights: beef flour taquitos, chicken flour taquitos, beef corn taquitos and chicken corn taquitos.
"Our mission is to guide consumers to the best tasting brands," said Lisa Liguori, ChefsBest's CEO. "El Monterey is exactly the type of high quality brand we want to differentiate for shoppers. We are proud El Monterey Taquitos now displays our medallion on-pack and that shoppers are able to identify this superior product in store at the moment of purchase."
About ChefsBest
American Culinary ChefsBest® (ChefsBest) is the independent, chef-based organization dedicated to identifying and honoring America's best food and food-related products. ChefsBest was founded in 2003 when it expanded its award portfolio to include both foodservice and retail awards. The company is well known for its Best Taste Award which has been in market for more than a decade. The Best Taste food award can only be earned by leading brands that win a competitive sensory evaluation. ChefsBest Awards are trusted third party endorsements that guide consumers to quality products with award-winning taste. For more information visit http://www.chefsbest.com, http://www.twitter.com/chefsbest, and http://www.facebook.com/chefsbest.