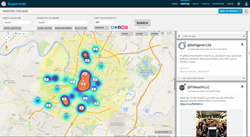 We have an efficient, responsive, complementary relationship with Snaptrends which helps us increase speed-to-market for sales, in-country product support and product enhancements
(PRWEB) June 16, 2015
Snaptrends, the most powerful location-based social media intelligence platform, expands its partnership with Chenega Corporation, the leading Alaska Native Village Corporation, to accelerate global sales growth for both organizations. Chenega continues to expand its global services organization to meet market demand for Snaptrends. As an authorized Snaptrends reseller, Chenega now has operations with native speakers in the United States, Europe, United Kingdom, Middle East, Africa and Mexico, providing sales and client-facing technical, professional services to leverage location-based social media intelligence for all SaaS and Enterprise deployments.
Snaptrends relies on Chenega to help it grow its market presence abroad and for product development guidance based on customer feedback. "We have an efficient, responsive, complementary relationship with Snaptrends which helps us increase speed-to-market for sales, in-country product support and product enhancements," says William Lance
Swift, president of Chenega Federal Systems, LLC. "Software is a dynamic thing, particularly when social media is included in the mix, and you have to keep up using the latest technologies. We fuse social media data we get using Snaptrends software with other methods and techniques to provide our customers with capabilities once considered science fiction."
The harmonious software/services partnership extends beyond services and software. Snaptrends celebrates workplace diversity and found a strong footing with Chenega on similar business practices as well as the cultural side. Snaptrends co-founder and chief technology officer along with its head of engineering are of Native American Indian descent, connecting their leadership with that of Chenega on a cultural level uncommon in the technology industry.
Based on the success of their relationship with Chenega, Snaptrends is committed to exploring partnerships with other First Nation tribes. One such initiative involves operating an active interns program to encourage Native Americans to come to Austin and work with Snaptrends' engineers. "Our flagship partnership with Chenega has solidified our desire to partner with Native American tribes rather than venture capital firms when we are securing financing," says Eric Klasson, chief executive officer at Snaptrends. "Chenega introduced us to a market vertical we had yet to explore and works side-by-side with us to develop, sell, promote and evangelize our products around the world. Our levels of involvement in each other's organizations and contributions to each other's growth and success are proof that these types of relationships can be mutually beneficial."
About Snaptrends
Snaptrends takes you inside the conversation, strips away the noise and illuminates the social media relevant to your business, organization or community. This information builds a clear view of social conversations when and where they unfold, the influencers driving those conversations, and why; ultimately giving you the ability to make more informed decisions and take more effective actions.
Founded in 2012, Snaptrends is a private company tucked in "Silicon Hills," the rolling hills surrounding Austin, Texas. At the intersection of two hot industries – cloud-technology and social media, Snaptrends is the leading provider of location-based social insights to organizations worldwide.
About Chenega Corporation
As the most successful Alaska Native Village Corporation, Chenega Corporation figures prominently in the diverse government services contracting marketplace, and in the forefront among other Alaska Native Corporations' service to their Shareholders and their community. The Chenega Corporation performs on more than 250 federal contracts through a combination of negotiated best-value and full and open competition vehicles. Chenega Corporation ranks among the top five most successful Alaskan-owned businesses in the state.
###
For Media Contact:
Jessica Sellers
Snaptrends
8601 Ranch Road 2222
Building II, Suite 150
Austin, TX 78730
Email: jsellers(at)snaptrends(dot)com
Direct line: 512-716-8416