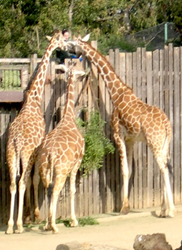 "In the past ten years, four out of five Reticulated giraffes have vanished," said Amy Phelps, Lead Giraffe Keeper at Oakland Zoo. "Since 1999, almost 50% of wild giraffes have disappeared from this planet."
Oakland, CA (PRWEB) June 15, 2015
Oakland Zoo is celebrating World Giraffe Day on Sunday, June 21. On this special day, guests will be invited to feed giraffes, meet zookeepers, and learn all about the long necked animals. Five times throughout the day, visitors will be given the opportunity to feed the giraffes for only $10.00 (cash) per person; feeding station will be located behind the African Veldt, across from the lion exhibit. Feedings will take place at 10:00am, 11:30am, 1:30pm, 3:00pm, and 4:30pm. All funds raised will be donated directly to the Giraffe Conservation Foundation's "Operation Twiga" to support their efforts to save the endangered Rothschild's giraffes in the wild. With an estimated 80,000 giraffes remaining in the wild, the time is to act now and raise awareness about giraffes. "In the past ten years, four out of five Reticulated giraffes have vanished," said Amy Phelps, Lead Giraffe Keeper at Oakland Zoo. "Most of us can't even begin to fathom four of our five closest friends disappearing from our lives, but, for the last remaining Reticulated giraffes, this is a daily reality. Since 1999, almost 50% of wild giraffes have disappeared from this planet. If something isn't done now and current trends continue, within the next ten years giraffe populations will be completely extinct in the wild."
Feeding tickets can be purchased at the Giraffe Exhibit on Sunday, 6/21, 2015. Teen volunteers will also set up stations for face painting and children's giraffe themed crafts and activities. Visitors will have the opportunity to participate in a raffle to win a hoof print painting from Tiki the giraffe!
This day-long event will also continue a unique fundraising campaign to support giraffe conservation, called Jeans for Giraffes. As a key partner in this collaboration between several zoos in California, Oakland Zoo will be collecting denim on June 21, to raise money to support giraffe research and to protect giraffe populations in Africa. We are encouraging guests to bring jeans for giraffes. Any pair of jeans will do, even those that are old and "well loved." As an added benefit, we will be helping the planet by reducing waste: according to research, the average person in the United States throws away sixty-eight pounds of clothing and textiles per year, and 23.8 billion pounds of clothing ends up in landfills each year. Denim collection bins will be placed outside the upper and lower entrances of Oakland Zoo.
This giraffe inspired event is very important to Oakland Zoo. The impact of illegal poaching, habitat loss and fragmentation, and human population growth are the biggest threats impacting giraffe populations in Africa today. In the late 1990's the giraffe population in Africa was estimated at 140,000 animals. In 2013, it had fallen to 80,000, a 40% loss in only ten years. The Giraffe Conservation Foundation is the only organization supporting giraffe conservation efforts across Africa. Oakland Zoo is committed to taking action to help giraffes and has a goal of raising awareness about giraffe conservation efforts.
ABOUT RETICULATED GIRAFFE:
Giraffes can eat up to 80lbs of leaves a day, which stimulates shoot and leaf growth (making trees stronger) and favors seed dispersal across the landscapes. As one for the most identifiable and charismatic animals, giraffes market Africa. Their silhouettes and images are advertised on anything from tea bags to the FIFA World Cup, and it's hard to find a tourist brochure that doesn't have a giraffe on it. Oakland Zoo has a total of nine giraffe four males and five females. The reticulated giraffes can be seen daily at the Zoo's African Veldt from 10:00am - 4:00pm.
ABOUT OAKLAND ZOO:
The Bay Area's award-winning Oakland Zoo is home to more than 660 native and exotic animals. The Zoo offers many educational programs and kid's activities perfect for science field trips, family day trips and exciting birthday parties. Nestled in the Oakland Hills, in 525-acre Knowland Park, the Zoo is located at 9777 Golf Links Road, off Highway 580. The East Bay Zoological Society (Oakland Zoo) is a nonprofit 501(c)(3) organization supported in part by members, contributions, the City of Oakland and the East Bay Regional Parks. For more information please visit our website at http://www.oaklandzoo.org.
###
Contact: Nicky Mora, Senior Manager, Marketing/PR
(510) 632-9525 ext. 130
nmora(AT)oaklandzoo.org