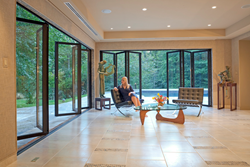 "These floor supported systems offer the same weather protection and performance of our top-hung systems," said NanaWall Systems CEO Ebrahim Nana.
San Diego, CA (PRWEB) June 22, 2015
NanaWall Systems will showcase Floor Supported Technology at a builders conference, PCBC, in San Diego on June 24-25, 2015 at booth 1723. With NanaWall Floor Supported Technology, NanaWall Systems is the first company to offer a complete line of both floor supported and top-hung glass wall systems. While many systems are supported by their upper track with the lower track serving as a guide, some applications require a different solution―such as retrofits, remodels, environments with snow loads and those where a building's height might shift over time.
"These floor supported systems offer the same weather protection and performance of our top-hung systems," notes NanaWall Systems CEO Ebrahim Nana. "Yet they're also easy to operate with their stainless steel wheels riding on a stainless steel track, which is designed to work smoothly even with up to 3/8-inch of debris inside the track itself."
TWEET THIS: Innovative brand @NanaWall offers options for any project: top-hung and floor supported folding glass walls http://bit.ly/1AhxAHi #design
Jonathan Feldman, AIA, Feldman Architecture, creator of the famed 'Butterfly House' in Carmel, California, relied heavily upon NanaWall Floor Supported Technology for his outdoors-meets-indoors design.
"Using the floor supported doors allowed us to have a very thin structure and allow the indoor/outdoor connection to be paramount, and not have heavy beams in the way," said Feldman. "If we had to load up the beam that was supporting the doors, all the weight of all of those doors, which are quite heavy, would have made those beams much beefier. It would have meant the façade was much less light-looking, with less of a view and more of a blockage between the indoor and outdoor connection."
For new designs and retrofits alike, NanaWall Systems offers different types of floor supported folding door systems.
These include aluminum framed folding glass walls such as the thermally-broken SL60; the SL70 for monumental-sized openings; the new SL80/81 series, with their ultra-thin rails and stiles; and the award-winning SL82, whose edge-to-edge design makes it appear utterly frameless when closed. The company also offers the aluminum clad WA67 with its elegant wood framing, as well as the solid wood framed WD66 model.
The Dedicated Design Team at NanaWall Systems is able to recommend the ideal model—whether top-hung or floor supported—for virtually any application.
For more information, visit nanawall.com, call 800-873-5673 or follow at https://www.facebook.com/NanaWall.
Media Notes
Related Links:

About NanaWall Systems
NanaWall Systems redefined the category of opening glass wall systems. During its 25-plus years in business, the company has earned the trust of architects, builders, design professionals and homeowners as a solutions provider for re-imagining how buildings, people and the elements interact. By combining precision engineering and outstanding design options across more than 20 unique systems, NanaWall Systems advances design possibilities beyond the conventional for almost any space. NanaWall Systems is located in the San Francisco Bay Area, with 22 showroom and design studio locations across North America. NanaWall Systems is the exclusive North American partner of Solarlux Germany, the world leader in opening glass wall technology.
About PCBC
Dedicated to advancing the art, science and business of housing, PCBC is the largest homebuilding tradeshow representing the west coast region. Launched in 1959 as a small educational conference at the Sheraton Palace Hotel in San Francisco, PCBC is now an annual two-day conference, product display and business exchange and is open to anyone professionally involved in the building industry, including builders, developers, architects, remodelers, designers, contractors, dealers/distributors and suppliers/manufacturers. Learn more at http://www.pcbc.com/.