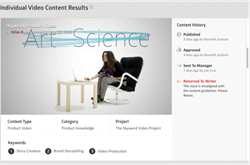 No other medium can elicit an emotional response as effectively and universally as video, so it's no surprise that consumers are watching more and more of it online. - Tom Gerace
Boston, MA (PRWEB) June 16, 2015
Today, Skyword, a leading content marketing platform and services company, announced the launch of Skyword Video, a new solution that enables marketers to manage video strategy, workflow, and production from one place. As video becomes a top medium for brands to connect with consumers, this new solution allows marketers to establish a comprehensive, affordable, and streamlined way to integrate video production into their overall marketing strategies.
This solution marks the completion of Skyword's work integrating its platform with Vidaao video creation platform and freelance videographer community, which it acquired in September 2014.
Skyword's Founder and CEO Tom Gerace made the announcement as the company prepares for Content Rising Summit, Skyword's first annual brand storytelling conference. This week, Content Rising Summit will bring together 300 brand marketers and agency leaders to explore trends and best practices in brand storytelling and content marketing.
"No other medium can elicit an emotional response as effectively and universally as video, so it's no surprise that consumers are watching more and more of it online," said Gerace.
According to Cisco, online video users are expected to double to 1.5 billion in 2016.
"Online streaming services and video growth on social media have brought our video consumption habits to new levels. If the story is really compelling, we'll binge on it, share it with friends, and talk about it on social media," Gerace continued. "Brands need to start catering to this consumer behavior by creating video series that capture the brand's core message and keep people coming back for more."
For marketers, allocating the needed funds, time, and resources are among the top challenges for video production. With a creative marketplace of professional videographers, project management software, and access to strategic services, Skyword Video will lift those barriers and allow brands to incorporate video into their overall content marketing strategy.
With Skyword Video, marketers can:
Develop a holistic marketing strategy that supports the brand's story
Collaborate with a network of proven, professional creatives
Systematize video production with unified processes and software designed to streamline review cycles and cut costs
Automatically publish videos to Kaltura's video hosting platform
To date, more than 650,000 stories have been published through the platform, generating nearly 800 million organic visits.
For more information on Skyword Video, visit: http://www.skyword.com/skyword-video/
About Skyword
Skyword moves marketing leaders and those who create content for them forward. By embracing a sustainable, scalable approach to original storytelling, Skyword liberates brands from ineffective marketing practices and inspires them to create deeper connections with their audiences. The Skyword Platform makes it easy to produce, optimize, and promote content at any scale to create meaningful, lasting relationships. Skyword also provides access to a community of thousands of freelance writers and videographers, an editorial team, and program managers who help move clients' content marketing programs to new levels of creative excellence. Skyword is a privately held company headquartered in Boston, Mass., with offices in Miami, Fla., Palo Alto, Calif., and New York, N.Y. The company's technology center is located in Pittsburgh, Pa. Investors include Cox Media Group, Allen & Company, Progress Ventures, and American Public Media Group.
Connect with Skyword
Website: http://www.skyword.com
Facebook: https://www.facebook.com/skyword
Twitter: @skyword
LinkedIn: https://www.linkedin.com/company/skyword-inc.
Google+: https://plus.google.com/116106239912491759886/post
The Content Standard: http://www.contentstandard.com/