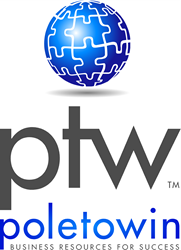 For decades, PTW has been a key provider of customer support services in interactive gaming.
Santa Clara, CA (PRWEB) June 16, 2015
"We are proud to be a sponsor of Call Center Week," said Ken Van Vranken, Director, Customer Support. "It's amazing to see a broad spectrum of the companies and industries that are represented here. It's a testament to how the call center industry has grown over the years. For decades, PTW has been a key provider of customer support services in interactive gaming. We have a solid track record of exceeding customer expectations, and delivering superior CSAT from our dozens of delivery locations around the world."
Part of PTW's business evolution is the launch of a brand new corporate logo. The new logo will kickoff PTW's engagement at Call Center Week 2015. The graphic elements within the logo feature a globe in cobalt blue with pieces of a puzzle in just the right place, along with the tagline Business Resources for Success. "Our new logo better reflects the PTW brand today as we continue to support industry leaders worldwide," said Deborah Kirkham, Chief Operating Officer. "We've been in business for over 20 years, and our new logo reflects a more modern and evolving visual identity."
To win a prize from PTW, a card with the new logo will be distributed during the Call Center Week opening keynote on June 17th. Cards should also be available at registration after the opening keynote. Conference and expo attendees must answer a quick question on the entry card, provide contact information, and then drop the card at the Call Center Week registration desk. Prizes include: one five-day trip for two to Washington D.C.; a choice of a wearable tech gift (Fitbit, GoPro, Pebble Smart Watch); or an Amazon gift certificate.
About PTW
PTW is the world's premier video game and e-commerce services provider. Our wide range of services includes: Testing, Quality Engineering, Localisation, Customer Support, and Onsite Services. PTW is a one-stop-shop for your production needs. We offer two decades of experience and a global reach stretching across 23 studios. Our company has the infrastructure to support projects and companies of all sizes.
PTW International Group is a group of subsidiaries of Poletowin Pitcrew Holdings Inc. POLE TO WIN is a registered trademark of Pole To Win Co., Ltd in Japan and other countries. All rights reserved. For more information, visit http://www.poletowininternational.com. Stay connected with PTW International on Facebook, Twitter, and LinkedIn.
Regina Walton
Pole to Win International
pr(at)poletowininternational(dot)com
+1 (408) 969-0062