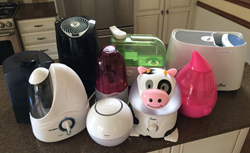 Buying a humidifier for baby is more complicated than you might think.
Cheyenne, Wyoming (PRWEB) June 18, 2015
BabyGearLab performed extensive tests for performance and functionality on 9 of the top rated humidifiers for baby on the market. The several months long testing process included everything from how much "white dust" each product produces to how easy it is to clean. The side-by-side comparison took into consideration features like ease of cleaning and use, noise, and effectiveness. Products were put through their paces in-house under lab conditions to control variables, and in the real homes of actual testers. The complete picture on all things humid, including information on each product and the award winners can be read on BabyGearLab.com.
The award winners are:
The Editors' Choice award was awarded to the Sunpentown SU-4010. This quiet ultrasonic humidifier is a great producer that is easy to use and easy to clean. It comes complete with an ionic exchange filter and has a high output compared to the competition. Dr. Spurrier, founder of BabyGearLab, says "The Sunpentown SU-4010 has an easy to fill tank that runs over 18 hours." She went on to say that, "This product is very effective and the filter helped keep the mineral dust to a minimum, something we didn't see with all the competition."
The Safety 1st 360 won the award for Best Value. This humidifier is a nice economical choice that came in second place in testing. Dr. Spurrier, of BabyGearLab, said, "The Safety 1st earned a second place in our review with a price 1/3 that of the Editors' Choice. It works well, offers auto shut off when the tank is empty, and is a simple design that is easy to use. "
BabyGearLab tested each humidifier in a controlled setting to avoid potential differences caused by uncontrolled variables. This allowed for unbiased reporting and comparable metric results. The humidifiers were also used in real homes by real parents who reported and scored on their experiences with the products and how easy they were to use and clean. The winners were selected by a combination of their test results and user experiences.
Parents can also find a companion buying advice article that will help them navigate through the features and functions of humidifiers in general so parents can feel confident in their buying decision. BabyGearLab.com serves as a resource for parents to determine what features they really need and which products will fill their needs.
BabyGearLab.com offers baby gear reviews and testing designed to offer truly unbiased side-by-side comparison reports on the top baby products parents are looking for. Founded by a pediatrician, the company is dedicated to creating useful and comprehensive reviews that provide parents with the information they need to make confident buying decisions. The website also offers buying advice guides, and articles about health and safety for children.