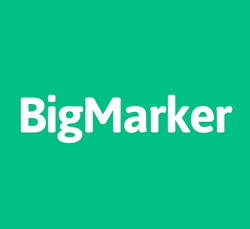 CHICAGO (PRWEB) June 16, 2015
BigMarker (http://www.bigmarker.com), the platform for connecting people through webinars, online events, workshops and presentations, announced today a partnership with Techweek to offer free, live coverage of Techweek Chicago to a global audience. This event will be the third time the companies have teamed up, after successful webcasts of this past year's Techweek LA and Techweek Detroit events. The webcast will allow anyone to join thousands of entrepreneurs, venture capitalists, and innovators celebrating tech in Chicago from June 25-26, 2015.
BigMarker's browser-based webinar platform will enable participants to view and engage with Techweek's incredible lineup of panels, summits, and keynotes from anywhere in the world. BigMarker is the only full-featured web conferencing service that is built entirely using HTML5 and WebRTC and can support webinars with thousands of participants at once. The conference expects to reach a global audience with participants from dozens of countries.
"We're excited to continue our partnership with Techweek, extending its celebration of innovation to online audiences for the third time" said Zhu­-Song Mei, BigMarker's Founder and CEO. "We believe that the knowledge and insights shared at Techweek are critical to jumpstarting the next generation of entrepreneurs. By helping Techweek push its content further in free webinars, we hope to inspire more people to dive into the tech ecosystem and start building things!"
Techweek Chicago sessions will be available via free webinars on Thursday, June 25th and Friday, June 26th, 2015 at https://www.bigmarker.com/techweek. Virtual attendees can tune in for conversations led by influential leaders, entrepreneurs and innovators, including Chris Curtin (CMO of Visa), Rishi Shah (Founder of ContextMedia), Kristi Ross (CEO of Dough), Tom Schenk (Chief Data officer for the City of Chicago), and Chris Taylor (GM at Uber).
For more information about BigMarker, please visit http://www.bigmarker.com. For more information about Techweek, please visit http://www.techweek.com.
###
About BigMarker
BigMarker is the platform for learning and sharing through web conferences. Founded in 2010, it was born from the idea that web conferencing could help people anywhere learn and build relationships with peers. So it set off to create a destination for virtual meet-ups around common interests. Since then, BigMarker has evolved into a full-featured platform surrounded by a growing community of over 7,000 groups and organizations from 190 countries. The platform provides unlimited webinars with integrated audio and video conferencing, screen sharing, recording, the ability to sell tickets, and community features to engage and build an audience between events. BigMarker's mission is connecting people to learn and share experiences in a live setting online. For more information, visit http://www.bigmarker.com.
About Techweek
Techweek is a 7-day technology conference and festival that celebrates and enables innovation ecosystems in six cities: Chicago, Detroit, New York, Los Angeles, Miami, and Kansas City. With Techweek as a conduit, a spotlight is able to shine on each individual technology community, providing entrepreneurs, innovators, influencers, and visionaries to share ideas, sparking game-changing conversations and inspiring action.
Past speakers at Techweek include Jonah Peretti (Founder & CEO, BuzzFeed), Karen Sumberg (Diversity Pod Leader, Google), Travis Kalanick (CEO, Uber), Reshma Saujani (Founder & CEO, Girls Who Code), Dan Gilbert (Founder, Quicken Loans), Alexis Ohanian (Co-Founder, Reddit), Rahm Emanuel (Mayor, Chicago), and Kathryn Minshew (Founder, The Muse). Techweek has garnered more than 200 sponsors including T-Mobile, Uber, Microsoft, Yelp, Motorola, Groupon, Redbox, Wordpress, American Airlines, and more.