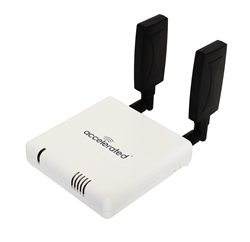 The legend of the "fiber seeking backhoe" is rooted in real life outages - Get cellular failover!
Tampa, FL (PRWEB) June 23, 2015
Accelerated today announced that its next generation 6300-CX cellular extender provides mission critical network uptime through cellular wireless failover for M2M and the Internet of Things.
The loss of traditional Internet network connectivity can lead to lost revenue, decreased productivity, and failed compliance, as well as reputation & brand impact.
Internet downtime is expected and occurs from scheduled interruptions (service provider maintenance), random accidents (nearby construction damaging physical infrastructure), or even unexpected and unpredictable disruptions due to extreme events (flood or fire). Being prepared for downtime is a necessary component of sound business practices.
An InformationWeek survey found that enterprises, on average, experience over 14 hours of connectivity downtime per year. Some high profile cases lasted well over a week. Gartner also estimates that on average the cost to enterprises during periods of downtime is $5,600 / minute, that's more than $300k / hour!
The reality is: in a disaster, wired networks are usually the first to fail and the last to recover. An Internet connectivity backup plan is in order.
Adding traditional "wired" redundancy is not a solution as wired technologies typically run in the same conduits and are vulnerable to all of the same threats as your primary connectivity (the legend of the "fiber seeking backhoe" is rooted in real life outages!). Wired redundancy is also costly to implement and has high recurring monthly charges that can be prohibitive for large distributed businesses.
The obvious solution to solve the redundancy issue is wireless cellular. The Accelerated Wireless Cellular WAN product solves the wired Internet downtime dilemma with the most effective and dependable solution available, a cellular (4G LTE) fixed-position backup. It's independent of the wired network and it's incredibly reliable and fast. For large distributed enterprise it is scalable and allows for a consistent maintenance model across the network to provide a redundant connection.
Cellular has a low initial investment, and since the Accelerated Cellular WAN is designed to work with any cellular provider it provides flexibility to support all locations of a business along with a predictable monthly cost model.
Cellular wireless solutions have traditionally been dogged with challenges such as "poor signal strength", or "data center located in a basement behind 10 feet of concrete", or "high antenna costs", or "scalable monitoring of devices".
A partnership with Accelerated allows a business to circumvent all of these challenges to easily take advantage of the benefits of cellular backup.
Accelerated's continued investment in solving the challenges of cellular backup have led to the latest advancement in cellular extender technology, the 6300-CX. This device was designed from the ground up with the enterprise in mind. This carrier certified router with an embedded modem provides businesses with enterprise grade failover backup connectivity for 100% uptime. The 6300-CX provides cellular Internet connectivity over the LTE/4G network, so branch office or store locations stay connected no matter what expected or unexpected outage occurs.
The 6300-CX also simplifies initial setup by shipping with a temporary battery pack to assist in a site survey to allow for optimal placement. The 6300-CX provides for the flexibility and opportunity to install the device where maximum signal strength is measured.
The 6300-CX cellular extender has the ability to receive all configuration settings from a central cloud management solution, Accelerated View. Accelerated View provides real-time alert and reporting mechanisms to monitor wireless connections and a business fleet of 6300-CX cellular extenders. This cloud based tool provides a scalable and reliable way to monitor devices across a distributed enterprise regardless of carrier.
Whether operating a branch office, or a distributed collection of retail stores or if simply requiring mission critical network uptime, Accelerated's cellular wireless failover solution provides peace of mind. Learn more about How Retail Stores Can Benefit from Accelerated Cellular Solutions. This failover solution provides for retail locations to have Retail failover or Retail backup as needed.
IOT Evolution Expo: Come visit us at Booth 313 at IOT Expo. Showcasing Accelerated solutions in the IOT Expo "Battle of the Platforms"
Cellular Connectivity Webinar: Join a Webinar on July 14 10:30am ET. Showcasing LTE failover or cellular connectivity for M2M solutions such as a kiosk.