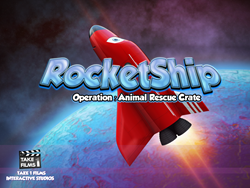 All of our main characters work together and apply their own individual strengths to complete the missions set out by OMNI in OMNI's grandmaster plan, while the Rocket Rangers crew takes it's reader on a fun-filled galactic adventure across the stars.
London, UK (PRWEB UK) 18 June 2015
RocketShip is an out-of-this world children's sci-fi adventure featuring a little red rocket ship called Red. Red along with his best friends Rex and Holli travel the universe in search of people to save and help. Together the team known as the "Rocket Rangers" journey across many adventures and Red learns what it takes to be a true hero and a friend.
Boys and Girls 3 and up will love this full colour interactive storybook, packed with beautiful 3D Illustrations, animations, games, audio and narration.
Operation Animal Rescue Crate is the first story to be released in the series of apps and books. This adventure has a cosmic twist seeing the head of the "Rocket Rangers" OMNI sending our hero Red on a special mission to rescue the animals on earth and transporting them using the Animal Rescue Crates to a new planet.
Special App Features

Interactive book controls
Three fun and exciting mini games
Find hidden objects
Original and exciting story
Full Narration and SFX
Read to Me feature
RocketShips development team has created a reading experience for children that merges traditional book based storytelling and engages children on many levels: whether listening to the narration, touching the screen and operating the holographic interface, reading the words and thinking about the actions our heroes take within the story.
Pricing and Availability
RocketShip: Operation Animal Rescue Crate is available now on Amazon and the Apple App store for just £5.99.
The app has been designed to be fun and easy to use whilst immersing children into the story and characters.
The RocketShip app was designed and produced by Take1 Films Interactive Studios in London, UK a leading interactive and motion graphics design company. RocketShip Operation Animal Rescue Crate is a child-safe app.
Ebook version available now on Kindle, iBooks, Kobo, Nook Book for just £3.99
For more information, videos and games, visit http://www.rocketship-red.com and join us on Facebook and Twitter.
Additional Information
Screenshots and other related media material are available for download at our Press Room visit: http://www.rocketship-red.com
A limited number of promotional codes for Ibook and iPad are available to members of the media. Journalists interested in receiving one should contact us at press(at)rocketship-red(dot)com with your name, your position, your required format and email address.
About J.N.T Unified Publishing
Founded in 2015 by the writers of the RocketShip series Jacobs, Nunn and Thorne are based in London, UK specializing in children's stories and entertainment. The RocketShip series aims to provide high-quality children's content for books, television, websites, gaming and education. J.N.T Unified publishing will be creating many more books in the RocketShip series with additional mini-adventure comic strips, activities and free apps already planned.
To learn more about the RocketShip series visit: http://www.rocketship-red.com
Media Press Contact: Debra: debra(at)rocketship-red(dot)com