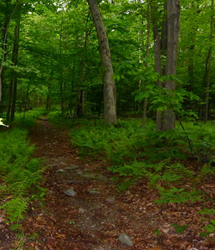 Join the Greater Waynesboro PA Appalachian Trail Community on June 20 for the Mason-Dixon AT Outdoor Festival.
Waynesboro PA (PRWEB) June 16, 2015
Franklin County PA is situated in the center of the Great Valley and is traversed by America's first national trail---the Appalachian Trail. On Saturday, June 20, 2015, the Franklin County Visitors Bureau joins the Greater Waynesboro PA Area Appalachian Trail Community in inviting outdoor enthusiasts to Red Run Park in Rouzerville, just west of where the A.T. crosses PA 16. The festival kicks off at 10 AM with no admission fee and runs through 4 PM.
Enjoy a day of outdoor activities, demonstrations, good food, and family fun. Learn good environmental practices with the national Subaru Leave No Trace traveling team, which will be on hand to show techniques of minimal impact practices with a special presentation at 1:00 PM. Throughout the day, enjoy the music of Cumberland Shakedown, Pooch and the Moochers, Drew Adams, Rooster and the Renegades, Secondhand, and Mateo Monk, sponsored in part by local Subaru dealership Sharrett.
A silent auction, taking place during the entire event, offers golf at Penn National, Whitetail ski lessons, River and Trail Outfitters Shenandoah River raft and tubing trips, and Brunswick Family Campground coupon.
The Antietam Watershed Association is holding a Rubber Duck Derby. beginning at 2:00 PM. Water quality monitoring displays and the Stream Saver Pinball Game will be on hand, also.
Bring the kids for a variety of children's activities beginning with story hour at 10:30 AM, featuring Smokey Bear and Crumbsnatcher the Shelter Mouse. Make pine cone bird feeders at 11 AM. Train rides begin at 1 PM.
Blue Ridge K-9 will have dog obedience demonstrations from 11 AM to 1 PM.
All day events include: kayaking demonstrations on the lake by Kirk's Kayaks, Whitetail's climbing wall, Tri-State Astronomers telescopes focused on sunspots, Laura Davis' facepainting, seated massages by Dr. Mindy Rouzer, free blood pressure screenings by Blue Ridge Summit Fire and Rescue with day-long display of all-terrain rescue vehicle.
Long-distance hikers will be able to camp in the park Friday and Saturday nights along with the Subaru Leave No Trace Team andPotomac Appalachian Trail Club members. Registration starts Friday, 4 PM to 9 PM at Red Run Park. There will be opportunities for the general public to "Meet the Hikers" and learn of their trail experiences and hiking recommendations.
Antietam Dairy ice cream and other food vendors, as well as crafts vendors and displays of non-profits will be on hand. Penn State/Mont Alto will have information on Forestry and Agriculture programs, as well as living history demonstrations by Renfrew Museum . Exhibits byHealthy Communities and Franklin County Visitors Bureau, a book talk by Jim Lobley, and stretching techniques shown by Ruff Fitness will also be on-hand.
Round out the trip to Franklin County PA with a Sunday, June 21 hike. Sign up during Saturday's festival and meet at Old Forge Picnic Area for two hikes. A Leave No Trace team will be leading a hike to the Tumbling Run shelter. Another hike for families and children, approximately one hour, is the second offering.
The Mason-Dixon Appalachian Trail Outdoor Festival is an outgrowth of the Appalachian Trail Conservancy's community outreach program. The Greater Waynesboro PA Area was designated an official ATC Community in April 2014. The Potomac Appalachian Trail Club and its North Chapter are the maintaining clubs for the A.T. from Shenandoah N.P. to Pine Grove Furnace.
The Franklin County Visitors Bureau invites all to explore Franklin County PA and enjoy the trails of history, arts, recreation, natural beauty, fresh foods and the warm hospitality of communities like Chambersburg, Greencastle, Mercersburg, Shippensburg, and Waynesboro. Franklin County PA is located just north of the Mason Dixon Line and is an easy drive to Washington DC, Philadelphia, and Pittsburgh. Discover more....plan a visit soon at ExploreFranklinCountyPA.com or by contacting 866.646.8060.