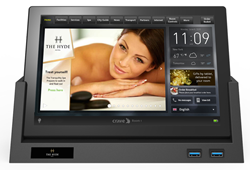 "Crave's in-room tablets are a perfect fit for Infusion Beach & Hotel," Josh Kientz, founder of DKR Partners
(PRWEB UK) 18 June 2015
The Infusion Beach & Hotel (IBH), slated for opening in early 2016, is a multimillion-dollar renovation and rebranding of the existing Garden Vista Hotel by the operators of the acclaimed Infusion Lounge and Hotel Fusion in San Francisco.
"Palm Springs is the perfect location for IBH, which will be a world-class hotel and nightclub venue unlike anything the area has seen before, with a spectacular Ibiza-style beach and pool area and cutting-edge high-tech features and amenities," said IBH spokesperson, Jim Hollenbeck.
Key amongst those high-tech features will be the in-room tablets, set to be installed in every guest room by Crave Interactive. Based in the UK, Crave is the current European market leader in in-room tablet- and app-based solutions for hotels. While its custom-made tablets are currently installed in prestigious hotels across the UK, including The Lanesborough London and Chewton Glen, IBH was the company's first North American signing, delivered in tandem with Crave's Strategic US partner Engineered Lifestyles.
"We're very excited to be working with IBH," said Crave Commercial Director Tim Butterworth. "Our tablets are at the cutting edge of guest-facing hospitality industry technology, so a hotel that makes high-tech features such a key part of the guest experience is a perfect showcase for Crave's tablets," he said, adding that the company would be working in partnership with Engineered Lifestyles on other US signings in the near future.
The sleek, superfast tablets come preloaded with Crave OS, Crave's proprietary operating system created specifically for the hospitality industry, and allow for instant in-room food and beverage ordering, spa bookings, and guest communications, instantly updateable digital directories and menus, and limitless scope for additional sales and tailored in-room advertising.
The IBH installation will feature Crave T2, a new, updated version of the custom-made Crave tablet, which comes with a docking station designed specifically for use in hotel bedrooms, as well as various other unique Crave features. Crave's tablets are the first in the world to be designed specifically for in-room guest use.
"Crave's in-room tablets are a perfect fit for Infusion Beach & Hotel," said Josh Kientz, founder of DKR Partners, the company behind IBH and its San Francisco sister property. "A sleek combination of minimalist Asian style and cutting edge technology is exactly what the brand is all about."
IBH will be located at the current Garden Vista Hotel site in the North End district of Palm Springs. Crave Interactive recently debuted its Crave T2 at the HITEC conference in Austin Texas.
http://crave-hospitality.com/ contact pr@crave-emenu.com
http://dkrpartnerslp.com/ contact : jim@thehollenbeckgroup.com
/////
About Crave Interactive
Formed in 2009, UK-based Crave Interactive Ltd is a leading developer of guest-facing hotel tablets and app solutions, helping hotels provide great service via in-room tablets and guest-owned devices.
Crave is the European market leader, and its products and services are available worldwide.
Crave's services are powered by Crave Cloud, a sophisticated proprietary software platform that delivers excellent guest services via any device. To date over 1,000,000 items have been ordered via Crave Cloud.
Crave in-room tablets and apps provide a full range of guest services in a sleek and stylish manner. Crave solutions can replace paper Directories, and increase revenues of in-house services, such as spa treatments, restaurant bookings and merchandise sales. Nearly all guests engage with Crave in-room tablets, viewing an average of approximately 50 pages per guest night.
/////