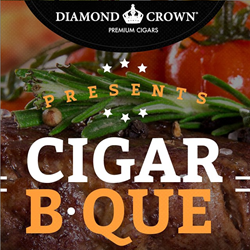 Denver, CO (PRWEB) June 18, 2015
On Thursday, June 25th the nationwide CigarBQue by Diamond Crown tour makes its fourth stop at Blanc in Denver from 6-9pm. This event is a unique experience bringing together guests from each city to enjoy great company and food prepared by top chefs from around the country.
The Denver event features culinary inspiration from the kitchens of prestigious Russell's Smokehouse, Old Major, LEÑA, Euclid Hall Bar & Kitchen as well as mixologists from Mizuna, Green Russell and Prohibition. The limited ticket availability produces an intimate evening amongst guests and some of Denver's premier culinary talent.
A ticket to CigarBQue includes all-you-can-eat dishes from the chefs, handcrafted cocktails and a selection of Diamond Crown Premium Cigars to enjoy all evening. With the $125 ticket, a portion of the proceeds will benefit the Cigar Family Charitable Foundation, a 501 (c)3 charity that uses education, empowerment and healthcare to uplift the impoverished people of the Dominican Republic.
The past CigarBQue tours have reached Atlanta, GA, Austin, TX and San Francisco, CA earlier this spring. To learn more about the event and the participating chefs, follow the hashtag #CigarBQue and visit http://www.cigarbque.com.
WHAT: CigarBQue by Diamond Crown
WHEN: Thursday June 25, 2015 from 6:00-9:00 p.m.
WHERE: Blanc 3150 Walnut Street Denver, CO 80205
Participating San Francisco Chefs
Frank Bonanno, Russell's Smokehouse
Justin Brunson, Old Major
James Robert Callahan, Jr., LEÑA
Jake Grant, Euclid Hall Bar & Kitchen
Participating San Francisco Mixologists
Austin Carson, Mizuna
Adam Hodak, Green Russell
Alex Fulle, Prohibition
Mike McGill, Old Major