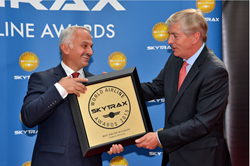 New York, NY (PRWEB) June 16, 2015
Turkish Airlines has been recognized as the "Best Airline in Europe" for the fifth year in a row by Skytrax, recognized by the aviation industry for its global ranking system that tracks customer satisfaction of airlines service and performance around the world.
The awards, based on just over 13 million surveys of worldwide airline customers from May 2014 to January 2015, evaluated traveler experience using key performance factors – including check-in, arrivals, transfers, security and immigration.
The carrier also received the distinction of having the "World's Best Business Class Airline Lounge" and "World's Best Business Class Lounge Dining."
The newly refurbished and expanded Turkish Airlines Lounge Istanbul offers a wide range of activities and services known for transforming passengers' preflight or connecting time into an experience. With the world-renowned Turkish Airlines Lounge Istanbul also receiving recognition for its food for the second consecutive year, SkyTrax survey participants recognized the carrier's successful catering partnership with Turkish DO&CO.
Turkish Airlines offers over 60 weekly departures through its eight U.S. gateways which include Washington, D.C. via Dulles International, New York's JFK, Boston, San Francisco, Los Angeles, Houston and Chicago Airports. Through these gateways, U.S. travelers have access to over 270 destinations via one-stop connection through Turkish Airlines' Istanbul hub, including emerging markets in Asia & Africa. Passengers will also exprience Turkish Airlines' award-winning service onboard an aircraft that is among the youngest of the international and U.S. domestic carriers with the average aircraft being around six years old.
About The World Airline Awards:
Skytrax World Airline Awards are coveted Quality accolades for the world airline industry. Travellers from across the globe take part each year in the world's largest airline passenger satisfaction survey to decide the award winners. The World Airline Awards are a global benchmark of airline excellence, and widely known as the Passengers Choice awards.
About Skytrax:
Skytrax, established in 1989, are specialist Research Advisors to the air transport industry, based in London, UK. Skytrax undertake qualitative Product, Service and Passenger audits and research studies for airlines, airline alliances, airports and related air transport suppliers across the globe. Skytrax's surveys office is responsible for commissioning and managing the two major annual Passenger Surveys, for the world airline and world airport industry. These are the World Airline Survey and World Airport Survey, which have become established during the last 16 years as leading, independent, global surveys of airline and airport front-line quality performance.
About Turkish Airlines:
Established in 1933 with a fleet of five aircraft, Star Alliance member Turkish Airlines is a 4-star airline today with a fleet of 279 (passenger and cargo) aircraft flying to 274 destinations worldwide with 226 international and 48 domestic. According to Skytrax survey of 2015, Turkish Airlines was chosen "Europe's Best Airline" for the fifth and "Best Airline in Southern Europe" for the seventh consecutive time. Having won in 2010 the world's "Best Economy Catering Service", in 2013 the world's "Best Business Catering Service", and in 2014 "Best Business Catering Service" awards, Turkish Airlines was this year awarded the world's "Best Business Class Lounge Dining" and "Best Business Airline Lounge" prizes in the Skytrax survey. More information about Turkish Airlines can be found on http://www.turkishairlines.com.
About Star Alliance:
The Star Alliance network was established in 1997 as the first truly global airline alliance to offer worldwide reach, recognition and seamless service to the international traveller. Its acceptance by the market has been recognized by numerous awards, including the Air Transport World Market Leadership Award and Best Airline Alliance by both Business Traveller Magazine and Skytrax. The member airlines are: Adria Airways, Aegean Airlines, Air Canada, Air China, Air India, Air New Zealand, ANA, Asiana Airlines, Austrian, Avianca, Brussels Airlines, Copa Airlines, Croatia Airlines, EGYPTAIR, Ethiopian Airlines, EVA Air, LOT Polish Airlines, Lufthansa, Scandinavian Airlines, Shenzhen Airlines, Singapore Airlines, South African Airways, SWISS, TAP Portugal, Turkish Airlines, THAI and United. The integration of Avianca Brasil is currently in progress. Overall, the Star Alliance network currently offers more than 18,500 daily flights to 1,321 airports in 193 countries. For additional information visit http://www.staralliance.com and/or follow us on Facebook, Twitter, Youtube or LinkedIn.