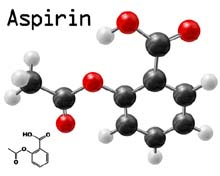 ASA [aspirin]... markedly reduced malignant mesothelioma growth in xenograft mice and significantly improved survival.
(PRWEB) June 18, 2015
Researchers in Hawaii studying mice with mesothelioma report that the anti-inflammatory properties of aspirin slowed the cancer's growth and improved survival. Click here to read the full story on the Surviving Mesothelioma website.
Scientists at the University of Hawaii Cancer Center, along with colleagues at Cedars Sinai Medical Center and two Italian hospitals, gave aspirin along with another inflammation-fighting compound, to mice that had been infected with human mesothelioma cells. The results were encouraging.
Researcher Haining Yang of the University of Hawaii writes, "ASA [aspirin] at serum concentrations comparable to those achieved in humans taking therapeutic doses of aspirin, and BoxA, a specific inhibitor of HMGB1, markedly reduced malignant mesothelioma growth in xenograft mice and significantly improved survival of treated animals."
According to the article in Cell Death and Disease, giving BoxA along with the aspirin enhanced the anti-inflammatory properties while protecting the mice against the gastrointestinal side effects of high doses of aspirin.
"Aspirin has already shown promise in fighting other types of cancer," observes Alex Strauss, Managing Editor of Surviving Mesothelioma. "This study is a hopeful sign that it may also have value in combating mesothelioma, one of the most treatment-resistant cancers."
To understand the role of inflammation in mesothelioma and how aspirin may help to fight it, see Aspirin Slows Mesothelioma Growth by Fighting Inflammation available now on the Surviving Mesothelioma website.
Yang, H, "Aspirin delays mesothelioma growth by inhibiting HMGB1-mediated tumor progression", June 11, 2015, Cell Death and Disease, http://www.ncbi.nlm.nih.gov/pubmed/26068794
For nearly ten years, Surviving Mesothelioma has brought readers the most important and ground-breaking news on the causes, diagnosis and treatment of mesothelioma. All Surviving Mesothelioma news is gathered and reported directly from the peer-reviewed medical literature. Written for patients and their loved ones, Surviving Mesothelioma news helps families make more informed decisions.