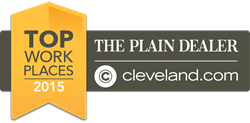 Plain and simple, it's our associates that make us an employer-of-choice.
Cleveland, Ohio (PRWEB) June 22, 2015
OEConnection LLC (OEC), a leading technology employer in Northeast Ohio, has won The Cleveland Plain Dealer's 2015 Top Workplaces award. The Top Workplaces award recognizes companies with great working environments as identified by employee nominations and survey feedback.
Run by WorkplaceDynamics, LLC, a leading research firm on organizational health and employee engagement, the regional Top Workplaces program delivered a 22-question survey to 61,770 employees from 1,626 organizations in Northeast Ohio. Employees' opinions of their employers are captured and evaluated on employee engagement, organizational health and employee satisfaction. Only 100 winners are selected each year.
OEC strives to provide their associates with competitive pay and benefits, work-life balance and a challenging, supportive and fun work environment. Positive employee feedback from the surveys yielded that OEC was nearly double the benchmark of other organizations in the industry in company-provided benefits. Results also affirm that OEC exceeded benchmarks on providing flexibility and work-life balance, in addition to offering effective training and management to learn and grow professionally.
Chuck Rotuno, OEC President & CEO, stated, "This is truly an honor. It's very rewarding to be recognized by our own associates with this iconic award. Plain and simple, it's our associates that make us an employer-of-choice. Now others will know OEC is a great place to work, with excellent growth opportunities, strong work-life balance and a fun, thriving culture."
The Plain Dealer published the complete list of Top Workplaces on June 21, 2015. For more information about the Top Workplaces lists and WorkplaceDynamics, please visit http://www.topworkplaces.com and http://www.workplacedynamics.com.
-###-
About OEConnection LLC (OEC)
OEC is the leading parts e-commerce technology provider for OEM distribution networks, serving over 60,000 dealership and repair customers. Customers use OEC products over 6 million times each month to market, manage and move original equipment parts, facilitating an estimated $20 billion in annual replacement parts trade. The company is headquartered in the greater Cleveland area at 4205 Highlander Parkway, Richfield, Ohio, 44286. Additional information is available at http://www.oeconnection.com or by emailing Geo Money at geo(dot)money(at)oeconnection(dot)com.