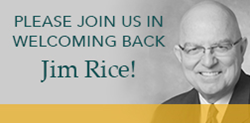 We are pleased to welcome Jim once again as one of our thought leaders in governance and leadership
Minneapolis, Minn. (PRWEB) June 16, 2015
Integrated Healthcare Strategies, a division of Gallagher Benefit Services, Inc., is excited to announce the re-engagement of Dr. James Rice. A former executive at Gallagher Integrated, Dr. Rice will provide governance support for physician group and hospital clients.
While on an extended leave of absence from Gallagher Integrated, Dr. Rice has been strengthening international systems for health sector leadership and governance. His USAID-supported project with Management Sciences for Health (MSH) has centered on working in more than 40 low-resourced countries in Asia, Africa, and Latin America.
"We are pleased to welcome Jim once again as one of our thought leaders in governance and leadership," Bob Erra, Area Chairman of Gallagher Integrated, said. "[We], along with our colleagues at Arthur J. Gallagher & Co., look forward to what he will bring to the table in other civic and business sectors."
Dr. Rice's senior advisor role will assist in exploring strategies and incentives for enhancing performance at the intersection of boards, physician and administrative leaders throughout North America.
"This is a challenging time for U.S. health system leaders as they work to thrive in an environment characterized by population health, expanded accountability, new alliances, and consolidation," Dr. Rice said. "Integrated Healthcare Strategies recent union with Arthur J. Gallagher & Co. will enable enhancements to client vitality, from bedside to boardroom."
###
For more than 40 years, Integrated Healthcare Strategies, a division of Gallagher Benefit Services, Inc., has provided consultative services and people-based solutions to clients across the healthcare spectrum, including community and children's hospitals, academic medical centers, health networks, clinics, and assisted-care providers. Our expert consultants and nationally recognized thought leaders help organizations achieve their business goals, by ensuring top talent is attracted, retained, and engaged, while measuring and maximizing human and organizational performance. With tailored solutions that extend well beyond single services, Gallagher Integrated offers the knowledge, guidance, and insights that organizations need to not only survive the rapidly changing healthcare environment, but to succeed in it.