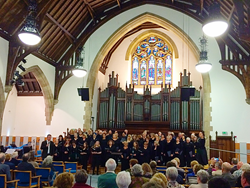 If it was not for the work of James Watt, our industry may not be here today
(PRWEB) June 18, 2015
Watt's idea for a separate condenser improved the efficiency of steam engines and brought about the industrial revolution, changing the course of history forever. Watt realised the importance of latent heat, the "hidden" heat and power in steam which today powers global processes and industry.
The concert was organised by the Institution of Engineers and Ship Builders in Scotland (IESIS) and The Strathchamber Trust and featured the Strathclyde University Chamber Choir and their guests, Icelandic Choir Selkórinn. The programme included a wide range of songs from Scotland and Iceland over the last 250 years and celebrated the effect which the industrialisation of Glasgow had on the musical life of the city, in particular through the world-renowned Orpheus Choir.
On 2nd October this year there will also be a gala dinner in honour of Watt at Glasgow's Radisson Blu Hotel to celebrate the 250 years since his innovative development.
Dr Andy Pearson of Strathclyde University Chamber Choir said, "This celebration owes its genesis to the council of IESIS. May 2015 was a significant milestone in the history of both Glasgow and engineering worldwide. The Strathclyde University Chamber Choir were happy to formulate the outline for a concert and Selkórinn, who are completing a tour of Scotland were pleased to be able to add a Glasgow date to their itinerary."
Dr Pearson added, "Star Refrigeration is proud to have sponsored such an historic milestone for the engineering industry. Not only does it show how far we have come as an industry, it also demonstrates how far we have to go."
"If it was not for the work of James Watt, Star Refrigeration and the rest of our industry may not be here today and with that it was fitting that some of our staff were in the audience and even the choir - bringing star quality to the proceedings."
More information on Watt can be found in "Watt's the big occasion", an article published by ASHRAE and written by Dr Andy Pearson and can be found at http://www.star-ref.co.uk/star/web-pages-news/
More information on The Strathchamber Trust can be found at http://www.strathchamber.org/
More information on IESIS can be found at http://www.iesis.org/