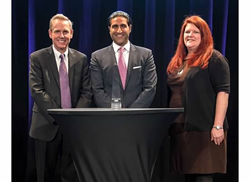 All of us at Acopian are extremely honored to be a recipient of Raytheon's 4-Star Supplier Excellence Award," stated Alex Karapetian, director of sales and marketing for Acopian
(PRWEB) June 18, 2015
Of the over 11,000 supplier partners participating in the annual event, only 300 were granted 3-, 4-, or 5-Star honors for outstanding performance. The award was presented at Raytheon's Supplier Appreciation Event, held May 27, 2015 at Gillette Stadium, Foxborough, MA. Acopian Power Supplies won the 4-Star Supplier Excellence Award in 2014 and the 3-Star Supplier Excellence Award in 2013.
Raytheon's Supplier Excellence Award program recognizes supplier partners who support the IDS business by providing levels of service and support that surpass customers' requirements. This year's Award candidates were judged on specific criteria, including overall quality, on-time delivery, process improvement initiatives, innovation, and success in meeting or exceeding safety standards. The Four-Star requirements for quality and delivery are 97%, and Acopian achieved 100% in both categories.
"All of us at Acopian are extremely honored to be a recipient of Raytheon's 4-Star Supplier Excellence Award for two consecutive years," stated Alex Karapetian, director of sales and marketing for Acopian, upon accepting the award. "Achieving this recognition clearly demonstrates our unwavering commitment to supply Raytheon, and members of the U.S. Armed Forces, with the industry's most robust and reliable power supplies. We greatly appreciate the opportunity to partner with Raytheon in supporting the defense industry."
About Acopian
Acopian Power Supplies has been designing, manufacturing and distributing custom, standard and modified-standard power supplies since 1956. Their products are commonly employed in a broad range of electronics applications in such strategic markets as computing, aerospace, automotive, medical, telecommunications, and industrial control. Acopian's comprehensive portfolio consists of full lines of AC-DC single, dual and triple output power supplies, AC-DC wide adjust output power supplies, DC-DC converters, high voltage AC-DC and DC-DC power supplies, redundant systems, N+1 power supplies and systems built to customers' unique requirements. Standard models have outputs from 1 V to 30 kV, and up to 1200 W. Each is shipped within 3 days (larger units ship within 9 days) after receipt of order. Redundant power systems come with a full 5-year warranty and ship within 9 days after receipt of order. All Acopian products are built in the USA and shipped factory direct to customers worldwide.