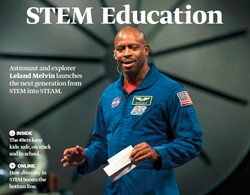 (PRWEB) June 19, 2015
The print component of "STEM Education" is distributed within the weekend edition of USA Today in Los Angeles, New York, Philadelphia, Boston, San Francisco, Seattle, DC/Baltimore and Cleveland with a circulation of approximately 450,000 copies and an estimated readership of 1.3 million. The digital component is distributed nationally, through a vast social media strategy, and across a network of top news sites and partner outlets. To explore the digital version of the campaign, click here.
Astronaut and explorer Leland Melvin graces the cover, showcasing not only his support for the STEM fields of study but the importance of putting the arts back in STEM as well, through investment in STEAM! NASA administrator Charles Bolden also emphasizes the need for our nation to support STEM education inside and out of the classroom, while the San Francisco 49ers CEO Jed York inspires students in Levi's Stadium.
This campaign was made possible with the support of NASA, Charles Bolden, Discovery Education, McGraw-Hill Education, STEMconnector, Emerson, Microsoft, Code.org, National Girl's Collaborative, the UTeach Institute, the CSTA, Global Gaming Inititative, MillionWomenMentors, 4-H Council, STEM Education Coalition, Florida Institute of Technology, KUKA Robotics, Purdue University, Avery Dennison, Embry-Riddle Aeronautical University, Woodrow Wilson National Fellowship Foundation, STEM Jobs Mag, Working Mother's Media, Subha Barry, Working Mother Media and many others.
About Mediaplanet
Mediaplanet is the leading independent publisher of content-marketing campaigns covering a variety of topics and industries. We turn consumer interest into action by providing readers with motivational editorial, pairing it with relevant advertisers and distributing it within top newspapers and online platforms around the world.