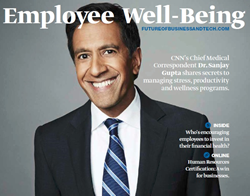 (PRWEB) June 16, 2015
Made possible with the support of WorldatWork, Society for Human Resource Management (SHRM), Health Enhancement Research Organization (HERO), American Medical Group Association (AMGA) and many more, the "Employee Well-Being" campaign advocates for an increased emphasis on employee well-being by highlighting the importance for employers to expand benefits programs that support the improvement of employee health, initiate a higher level of job performance, develop a greater sense of company loyalty and in turn improve their bottom lines.
"As the work environment continues to shift and grow, it is increasingly important for organizations to recognize the value of integrating well-being into a more holistic view of the employee," explains Rose Stanley, practice leader at WorldatWork. "To support this effort, initiatives like the 'Employee Well-Being' campaign help inform employers of the many options available to them so they can decide on the solutions or programs that best fit their needs and those of their employees."
Rally Health's flagship product, RallySM is a HIPAA-compliant digital health platform and mobile app for employees that leverages the power of personal health data, social networking and gamification to help people make simple, positive changes in their daily routines, set health-and-wellness goals and stay on target. Rally is distinguished by its simplicity of design, taking what are usually complex steps and breaking them down into smaller, more manageable actions that help employees complete the actions and remain engaged in their health. For example, Rally's proprietary and patent-pending health survey, the gateway to the platform, has a 95 percent completion rate (based on Rally Health experience), which is 10 times the industry standard. Ultimately, Rally's engagement tools and incentives inspire people to make better, more informed decisions about their health, which is important when employers are looking for long-term health behavior change.
The print component of "Employee Well-Being" is being distributed as a full-color special section within the June 12th edition of USA TODAY in the Atlanta, Chicago, DC/Baltimore, Los Angeles, Minneapolis, New York, Phoenix and San Francisco distribution markets, with a combined circulation of approximately 450,000 copies and an estimated readership of 1.3 million.
Dr. Sanjay Gupta, CNN's chief medical correspondent, associate chief of neurosurgery at Grady Memorial Hospital, assistant professor of neurosurgery at Emory University School of Medicine and renowned advocate for employee well-being, will be headlining the campaign and featured on the cover of the print publication.
"Having insurance doesn't equal having good health. You probably know people who have terrific health insurance but are still wildly unhealthy," Gupta states in exclusive interview with Mediaplanet. "I think wellness and optimization need to be infused into our culture. Certainly corporate wellness programs should become a big part of any culture."
Corporate wellness programs have been a hot topic of conversation for many business leaders in recent years. Aiming to improve employee health, reduce absenteeism and generate savings from reduced healthcare costs, about 77 percent of U.S. employers recently reported offering wellness programs to their employees.
To explore the digital version of Mediaplanet's "Employee and Well-Being" campaign, click here or visit http://www.futureofbusinessandtech.com.
About Rally Health
Rally Health, Inc. helps people take an active role in their health. Using clinical data, customized recommendations, and continual rewards, the RallySM digital health platform helps people make positive lifestyle choices and navigate every touch point in the health care continuum. With offices in Washington, D.C., San Francisco, and Chicago, the executive team at Rally Health has been working to transform the health and wellness industry since 2010. For more information, please visit http://www.RallyHealth.com.
About Mediaplanet
Mediaplanet specializes in the creation of content marketing campaigns released through multimedia platforms. We provide our readers with insightful and educational editorial in the fields of their interest, designed to motivate them to take action. Our unique ability to pair the right leaders, with the right readers, through the right platforms, has made Mediaplanet into a global powerhouse in content marketing. We continue to explore and expand our network of partners and clients through the shared interest of providing our readers the best experience possible.
Press Contacts
For Mediaplanet:
Jeremy Amigo
(646) 922-1408
Jeremy(dot)amigo(at)mediaplanet(dot)com
For Rally Health:
Amanda Breeding
(415) 229-7649
Amanda(dot)Breeding(at)edelman(dot)com