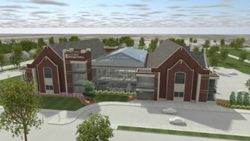 The cutting edge clinical care reflected in Imagenetics and in this building is an investment in our patients.
Sioux Falls, SD (PRWEB) June 18, 2015
Sanford Health will soon construct a 100,000-square-foot building dedicated to Sanford Imagenetics, a program unique to Sanford that integrates genomic medicine with innovative primary care for adults.
Construction is scheduled to start October 2015 south of the Sanford USD Medical Center campus in Sioux Falls. When completed, the building will house a long list of services, including general internal medicine, dialysis, medical genetics, genetic counseling, medical genetics laboratories (cytogenetics and molecular genetics), radiology and patient access management.
"The cutting edge clinical care reflected in Imagenetics and in this building is an investment in our patients," said Paul Hanson, president of Sanford USD Medical Center. "The building will house our innovative pharmacogenetics program. We know that some medicines work well for one patient but might cause significant problems for another; by testing for genetic variation among patients, our doctors can prescribe the right drug at the right dose at the right time. Imagenetics is transforming care to create precise treatments, and placing these services in one location will only expedite the benefits for our patients."
The Imagenetics facility will also contain teaching space for internal medicine residents, future medical genetics residents and students in the newly formed genetic counseling graduate program created in partnership with Augustana College.
"Sanford Health has long provided comprehensive genetic health care for our patients," said Gene Hoyme, M.D., chief of genetics and genomic medicine at Sanford Health. "Creating this hub for Imagenetics will expand that care in a way that is convenient for patients and physicians. Overall, patients will have better health outcomes and a better patient experience."
The Sioux Falls Imagenetics building is the first in the Sanford family. Construction is scheduled to be complete in summer 2017.
Imagenetics was established in 2014 thanks to a generous gift of $125 million from philanthropist Denny Sanford.
About Sanford Health
Sanford Health is an integrated health system headquartered in the Dakotas. It is one of the largest health systems in the nation with 43 hospitals and nearly 250 clinics in nine states and three countries. Sanford Health's 27,000 employees, including 1,400 physicians, make it the largest employer in the Dakotas. Nearly $1 billion in gifts from philanthropist Denny Sanford have allowed for several initiatives, including global children's clinics, genomic medicine and specialized centers researching cures for type 1 diabetes, breast cancer and other diseases. For more information, visit sanfordhealth.org.