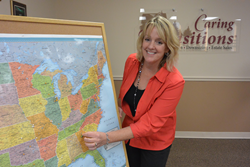 Our compassionate, patient and professional team is on board to take the stress off your shoulders, no matter the size of the job. - Caroline Dell
Atlanta, GA (PRWEB) June 16, 2015
Caroline Dell is excited to be opening a new local business committed to helping people who are facing difficult transitions – Caring Transitions of Atlanta Northeast.
Caring Transitions is America's largest resource for managing senior relocations as well as downsizing and estate liquidations. In addition to organizing, packing, decluttering, moving and resettling, Caring Transitions can handle on-site and online estate sales, liquidations, and preparing homes for market. Caring Transitions of Atlanta Northeast serves Suwanee, Johns Creeks, Alpharetta, Milton, Cumming, Duluth, Roswell and the surrounding communities.
Prior to joining Caring Transitions, Caroline worked as a healthcare educator and also as a public school teacher for teens with special needs. For Caroline, opening Caring Transitions of Atlanta Northeast was an easy decision.
"I have a friend who owns a Caring Transitions franchise in California, so I had the idea of opening my own franchise in the back of my mind. When I found that I was ready for a new path, I came back to Caring Transitions and found it was a perfect fit. I love working with seniors and it is extremely gratifying to own a business committed to helping people in need," Dell said.
Whether your situation is planned or unexpected, Caring Transitions' services are perfect for busy families, seniors moving in with family or into a safer living situation, or people clearing out the home of a loved one who has passed. All of Caring Transitions' services are customizable, so clients only pay for the services they need – whether that means handling the entire move and estate-clearing or just getting someone resettled into their new place.
"I know how challenging it was to relocate some of our own family members and I've seen many friends and relatives who are going through similar experiences. Families do not always live close to one another so getting through a transition can be tough on all involved, but Caring Transitions can help," Dell added. "Our compassionate, patient and professional team is on board to take the stress off your shoulders, no matter the size of the job."
Caroline is a Certified Relocation and Transition Specialist, a designation bestowed by an independent organization that evaluates providers of senior relocation services. Caring Transitions of Atlanta Northeast is bonded and insured and all employees are background-checked.
In addition to the suite of services Caring Transitions can provide to clients as a franchise, Caroline and her team also will be offering services to assist clients in getting their homes market ready.
Caring Transitions is a trusted and highly respected national company leading the way in senior relocation, household liquidations and estate sale management in more than 150 locations across the United States. Caring Transitions is part of the International Franchise Association, the Small Business Association's Franchise Registry, VetFran and Minority Fran.
For additional information about Caring Transitions and to learn how the company can help you and your family, call (404)900-9447, email CDell(at)CaringTransitions(dot)net or visit http://www.CaringTransitionsAtlantaNE.com.
About Caring Transitions
Caring Transitions, founded in 2006, is the first national franchising concept specializing in senior relocation and transition services. With more than 150 locations throughout the United States all owned and operated by Certified Relocation and Transition Specialists, Caring Transitions provides clients with supportive moves, auctions, rightsizing and transitions. This includes expert advice plus a well-executed transition plan beginning with the initial sorting of personal belongings through packing, shipping and selling of items to the final clearing and cleaning of the property. For more information, visit http://www.caringtransitions.com or visit us on Facebook or Twitter.