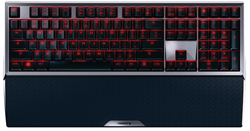 The New CHERRY MX 6.0, the fastest keyboard in the world, has been designed with the performance keyboard enthusiast in mind.
Pleasant Prairie, WI (PRWEB) June 16, 2015
With this flagship model, CHERRY aims for an absolute purist design to achieve responsiveness of the highest magnitude and a comfort level unsurpassed by any other keyboard. This keyboard has been designed with the performance keyboard enthusiast in mind.
The MX 6.0 Keyboard utilizes the latest precision technology to maximize performance. It combines the latest CHERRY RealKey-technology for analog signal processing with the proven and precise CHERRY MX-switches to achieve this. By using an analog signal path, all keys are connected directly to the controller, so there is no need for digital scanning of the switching points. The MX 6.0 Keyboard can rapidly transmit signals to the PC in less than a millisecond and is ideally suited for situations where response time is crucial. In contrast, conventional mechanical keyboards operate much more slowly, and need around 20 milliseconds due to the signal conversion required.
CHERRY RealKey technology allows for a full N-key rollover and 100 percent reliable anti-ghosting. CHERRY ensures that all keys can be read simultaneously, actively preventing any erroneous interpretation of the signal inputs.
The CHERRY MX 6.0 Keyboard has been fully equipped with its own, German engineered, high-quality gold-crosspoint MX keyswitches. These switches have a lifespan of more than 50 million operations, allowing CHERRY to guarantee the highest precision and the longest lifespan, even when used under extreme conditions. The new performance keyboard utilizes red MX keyswitches, which operate without tactile feedback and minimal resistance. The linear actuation force is 45 centinewtons.
Each switch is also equipped with a red LED, providing the MX 6.0 Keyboard with an eye-catching and alluring backlight. The red LED provides a consistent backlight with brightness control. The matching laser-engraved keycaps are optimized to achieve perfect illumination. CHERRY has accomplished this by using higher key caps such as those used with the G80-3000 model. With this design, unwanted illumination of the key gaps is eliminated.
The CHERRY MX 6.0 Keyboard features a high-quality 17.87" x 5.78" 1.1" housing. The upper side is made of aluminum with a sanded finish. A grease-repellent coating ensures high resistance against everyday influences. The keyboard includes a textile braided, 6.5 foot long USB cable.
In order to make long-term use more comfortable, users can attach a rubberized palm rest, included with the keyboard. Its easy handling is guaranteed thanks to a sophisticated mounting magnet system, allowing the palm rest to quickly be removed for cleaning or stowing.
The MX 6.0 Keyboard is ideally suited wherever productivity and efficiency are important, such as in the professional office for executives, executive administrators, writers, data entry and fast typists, as well as in the home office. The world's fastest keyboard also caters to performance keyboard enthusiasts with a configurable Windows key, bi-color status keys and twelve function keys that can be assigned with two different functions. The MX 6.0 Keyboard will also appeal to those assembling white box PC systems.
For further information visit http://cherrycorp.com/product/g80-3930-mx-6-0-keyboard/ or call 262-942-6500. Due to the very strong interest in this keyboard, only a very limited supply of evaluation units can be made available to qualified recipients. If interested, please contact Russell MacKenzie, Product Marketing Manager (see contact information below).
About CHERRY
CHERRY, a registered brand of ZF Friedrichshafen AG, provides high-performance sensors, standard and custom electrical switches, and computer input devices for the worldwide automotive, computer and consumer/commercial OEM markets.
About ZF Friedrichshafen AG
ZF is a worldwide leading automotive supplier for drive line and chassis technology with 121 production sites in 27 countries.
Contact
Russell MacKenzie
Product Marketing Manager
262-942-6508
russell(dot)mackenzie(at)zf(dot)com