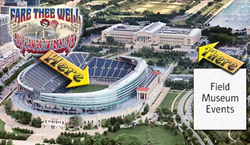 Chicago, Illinois (PRWEB) June 16, 2015
The 50th Anniversary "Fare Thee Well" Grateful Dead tour is taking place over the Fourth of July weekend on July 3, 4, and 5, 2015 at Soldier Field in Chicago. Tickets for the "Fare Thee Well: Celebrating 50 Years of Grateful Dead" are officially sold out and are averaging at least $200 per show on the secondary market.
Guests attending the concert, or those that did not get the opportunity to buy tickets, are invited to join the Deadhead activities at pre-show parties outdoors on the terraces of The Field Museum. On July 3, 4, and 5 the Museum's southeast and northeast terraces will be the site of the Everything Is Dead 50th Anniversary Celebrations, presented by On The Scene Event Management. The northeast terrace provides the complete VIP experience and includes performances by the tribute act Uncle John's Band. The $99 ticket price includes comfortable seating, grass lounging, a shaded tent and bathrooms, as well as craft beer from Two Brothers Brewery and wine from Coppola Winery. Each guest will also receive a $10 food voucher. Purchase tickets here.
The southeast terrace experience is $49 and instead of ending at 7 p.m. will end at 10 p.m., making it the only place on Museum Campus where you'll be able to stay during the concert each night. Guests on the southeast terrace will have chances every day to win tickets to the show, as well as autographed memorabilia and Stanley Mouse artwork. Purchase tickets here.
Inside the museum will be a special and very temporary exhibit, "All The Years Combine: Deadhead Treasures From The Grateful Dead Archive & GDTS Too," running from June 28 to July 5. For more information and pricing visit http://www.fieldmuseum.org.
About On The Scene
On The Scene is a Chicago based event management company built with experts from across the hospitality and entertainment industry. On The Scene is a behind-the-scenes partner and provides a unique and innovative approach to create events that compliment their clients corporate culture and meeting goals. They bring a high level of creativity, design and superior execution to each event they manage. Their national presence and relationships throughout the country allow them to source the best options for each client. To learn more about On The Scene visit their website at http://www.onthescene.com.