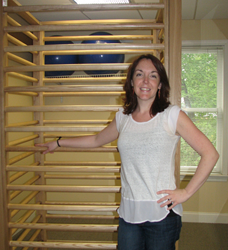 People need to know that scoliosis is manageable without surgical intervention.
Woburn, MA (PRWEB) June 19, 2015
Amy Heller, OTR/L is celebrating two years as a full-time Schroth practitioner at Scoliosis 3DC near Boston. She works daily with girls, boys and adults with spinal curvatures of varying degrees. While Heller loved her former positions as an occupational therapist, she feels fortunate to have made the shift to Schroth practitioner and expand her breadth of practice. Dr. Marc Moramarco knew she would be the perfect Schroth therapist and it turns out his instincts were 100% correct.
Heller's occupational therapy background provides her a unique and beneficial perspective for working with scoliosis patients. She explains, "An occupational therapist's main job is working with function. A huge aspect of that is activities of daily living. So no matter what population you work with [whether it is scoliosis patients or another group], therapists are always looking at what someone is doing and how that is impacting their ability to function optimally." Activities of daily living are a key component of the Scoliosis3DC program taught by Heller and Moramarco. Alongside instruction in Schroth, mobilizations, physio-logic® and 3D Made Easy® exercises, the two teach scoliosis patients how to sit, stand, lie down, and carry items such as backpacks and purses in a way that works to counteract scoliosis and helps patients avoid curve-stimulating behaviors.
Another important component of the Scoliosis3DC program is the depth and breadth of education the patient receives about their spinal curvature. Education is the starting point of each patient's customized program and the foundation which facilitates patient empowerment. Heller recognizes the importance of patient education and raising awareness for the Schroth method, noting, "Parents and kids know very little about [scoliosis] when they come into our office. Being able to educate them is the first step and essential for successful management." Patients are taught the hows and whys of what they are doing so they can translate their know-how to new situations they are presented with.
Amy is loved by patients for her sweet temperament, motivating attitude, and ability to explain difficult concepts simply. She is always willing to observe exercises from patient's extracurricular activities and interests and offer modification suggestions so that the patient does not stimulate curve progression while doing the activities they love. Kids (and adults) have packed schedules, and it is important to adapt activities so that patients know how to incorporate Schroth principles in ways that work for their lifestyle so they can employ them as often as possible.
While some doctors have expressed doubts about the ability of adolescents to be compliant with the demands of a Schroth program and brace-wear, Heller has seen first-hand that the majority of adolescents step up to the plate when it comes to bettering their overall health and stabilizing their scoliosis. "It is encouraging to see dedication in young patients and impressive to watch the changes that can be made. Adolescents get a bad rap but it is a pleasure to work with them because so many of the patients are kind, respectful and completely grateful for the help."
Heller explains that some of her biggest challenges have been working with kids with different developmental disabilities, however, it is also very rewarding to see what they are able to do and be able to bring her prior experience to that situation. She is always encouraged by seeing post-treatment x-rays both in- and out- of brace, as well as postural changes. Each patient is different regarding their discipline and ability to commit to their program, but Heller notes that both she and Dr. Moramarco take their responsibility to each and every patient very seriously. They make their best effort to instill the importance of what patients are learning and how critical it is to their future well-being. Kids are getting it and the results they are achieving show that the program works.
The Scoliosis 3DC program is unique among Schroth programs for a number of reasons, among them that it was the first program in this country established based on the recent work of Dr. Hans-Rudolf Weiss, grandson of Katharina Schroth. It is also the only facility in the U.S. dedicated exclusively to Schroth Best Practice® and Schroth compatible bracing in one location.