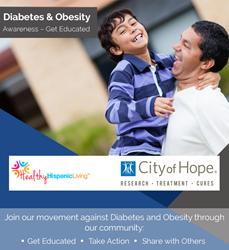 Unfortunately, the perception exists that nothing can be done to effectively cope with diabetes.
Irvine, CA (PRWEB) June 23, 2015
To help Hispanics and their families learn more about Type 2 Diabetes – and a key risk factor, obesity – HealthyHispanicLiving.com (HHL) announced a 90-day campaign on June 22, focusing on prevention, treatment options and lifestyle changes. In partnership with City of Hope, HHL will provide information to help Hispanics better understand, manage and prevent the disease.
The campaign is especially timely in light of a recent Harris Poll survey that indicates that Hispanics and Latinos have a much more difficult time adjusting to their disease than non-Hispanics, and that one in three sees their disease as a "death sentence." Hispanics experience a higher rate of Type 2 diabetes, and the survey shows that cultural and language barriers often prevent Latinos from achieving the successful outcomes achieved by other groups.
"Many Hispanics and Latinos have loved ones or friends who have been diagnosed with diabetes and then grown progressively weaker or more debilitated," said Raynauld Samoa, M.D., an endocrinologist at City of Hope who works closely with community groups to educate them about the disease. "Unfortunately, the perception exists that nothing can be done to effectively cope with diabetes."
Hispanics and Latinos are also much more likely to feel shame and isolation when diagnosed with the disease, according to the Harris Poll survey. Latinos with diabetes are five times more likely to avoid taking medicine when they "feel good," as non-Hispanics. Many cultural issues – and a potential language barrier – can make it much more difficult for Hispanics and Latinos to take control of their disease for better outcomes. And the vast majority of Hispanics also say their families influence how well they manage their disease.
"Understanding the role that family plays in Hispanic culture is key to responding to Hispanics' health challenges. Cultural understanding must be at the forefront of health communications to Hispanics – whether the messages are in Spanish or English, and whether they come from the medical community or brand marketers," says Luis Garcia, Chief Strategy & Engagement Officer from Healthyhispanicliving.com.
The articles and information published on HHL during the next three months will help Hispanics living with diabetes, and their family members, learn more about how to manage blood sugar, make healthy modifications to diet, and move past cultural barriers to success. They'll also learn how to help ensure their children don't develop Type 2 diabetes. Other coming articles will dispel common myths about diabetes, and how enlisting sons, daughters and parents can help families fight the disease together.
"Lifestyle changes can make a dramatic difference in the lives of people with diabetes, giving them control over their disease and changing the perception of diabetes as a death sentence," Samoa said. "Ultimately, those changes will benefit not only current diabetes patients, but also their sons and daughters, perhaps helping to prevent diabetes in the next generation."
To learn more, visit HHL, or "like" the HHL Facebook page.
About Healthy Hispanic Living
As the first preventive care online educational platform targeted to U.S. Hispanics, HHL aims to guide Hispanics to live healthier lives and to ensure preventive care engagement, accountability and self-advocacy by providing solutions and changing the conversation about health from illness to wellness. For more information, visit http://www.healthyhispanicliving.com
About City of Hope
City of Hope is an independent research and treatment center for diabetes, cancer and other life-threatening diseases. Designated as a comprehensive cancer center, the highest recognition bestowed by the National Cancer Institute, City of Hope is also a founding member of the National Comprehensive Cancer Network, with research and treatment protocols that advance care throughout the nation. City of Hope's main hospital is located in Duarte, California, just northeast of Los Angeles. For more information, visit http://www.cityofhope.org