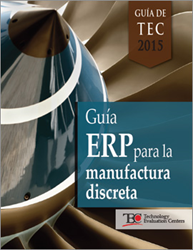 "Publishing our software buyer's guides in Spanish is a reflection of our ongoing commitment to better serve our growing Spanish-speaking community seeking advice on software selection." -- Lorne Goloff, VP of Software Selection Services at TEC.
Montreal, Quebec (PRWEB) June 17, 2015
As part of its ongoing efforts to support its growing Spanish-speaking community, TEC is pleased to announce that the Spanish edition of the TEC 2015 ERP Software Buyer's Guide for Discrete Manufacturing is now available to download for free.
This comprehensive buyer's guide looks at the dramatic changes in manufacturing over the past few years, and examines how ERP software has evolved to help discrete manufacturers respond to rapidly changing markets and increased global competition. Additionally it includes the results of a global survey conducted by TEC, to better understand manufacturers' technology challenges and initiatives in 2015—more than 25% of the survey responders were manufacturers from Latin America and other Spanish-speaking countries.
TEC's programs to provide Spanish-speaking software buyers with more resources and services reflect the market's demand for more effective software selection tools. Every year, billions of dollars are wasted by companies and organizations purchasing the wrong enterprise software solutions. TEC helps organizations worldwide to evaluate and select software solutions that fit their unique requirements by providing online comparison tools, an extensive research library, and hands-on selection services.
TEC's VP of software selection services, Lorne Goloff, says, "We continue to see growth in our Spanish-speaking community for software evaluation and selection resources and are prepared to better serve them. Publishing our buyer's guides in Spanish is just one part of that ongoing commitment."
The Spanish edition of the TEC 2015 ERP Software Buyer's Guide for Discrete Manufacturing focuses on the major areas of concern for ERP software buyers and explores a current trending area and source of innovation for ERP software providers—the user experience. The guide runs down the key features of leading ERP solutions targeted for the manufacturing industry and includes a customer success story from Epicor and an interview with its solutions director for Latin America.
To download a free copy, visit http://www.technologyevaluation.com/es/research/TEC-buyers-guide/TEC-2015-Guia-ERP-para-la-manufactura-discreta.html
To learn more about TEC's software selection services, contact +1 514-954-3665, ext. 404, or e-mail selectionservices(ar)technologyevaluation(dot)com.
About Technology Evaluation Centers (TEC)
Technology Evaluation Centers (TEC) is the world's leading provider of software selection resources, services, and research materials, helping organizations evaluate and select the best enterprise software for their needs. With its advanced decision-making process and software selection experts, TEC reduces the time, cost, and risk associated with enterprise software selection.
Over 3.5 million subscribers leverage TEC's extensive research and detailed information on more than 1,000 leading software solutions across all major application areas. TEC is recognized as an industry-leading software selection advisory firm offering resources and services both online and onsite. For more information, please visit http://www.technologyevaluation.com.