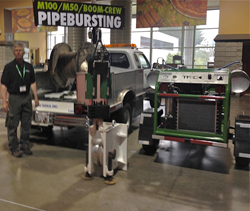 "Do I like this unit? 'Oh, yeah!' In 40 minutes you pull 100 feet of mainline pipe and you're on the road home."
Alameda, CA (PRWEB) June 17, 2015
Pipe Bursting manufacturer, TRIC Tools, congratulates the Golden State Warriors on their Championship Season! TRIC is another Bay Area icon that continues to surprise the odds makers. Next week TRIC sponsors Northern California APWA's June 25th meeting in Napa, California. The event will be held at The Runway by Patrick, 2044 Airport Road in Napa, CA 94558 starting at 11:30 am. The focus of the meeting will be California's Transportation Crisis in Cities & Counties and Potential Funding Solutions. At the meeting, TRIC's CEO Ward Carter and R&D and Product Development Technician Dave Crafts will demonstrate TRIC's Municipal Service Delivery Vehicle.
The featured speaker for the event is Ms. Margo Yapp. Ms. Yapp is the Vice President at Nichols Consultant Engineers (NCE) and has over 25 years of experience implementing and updating pavement management Systems throughout California and the West Coast. Ms. Yapp previously worked for the County of Monterey, Public Works Agency as a Transportation Engineer.
TRIC's Pipe Bursting Service Delivery Vehicle simplifies the pipe bursting experience by taking all of the "back breaking" effort out of the field. A boom crane lifts the equipment off of the truck and sets it in the pulling pit, the cable reeler allows the team to unwind the cable prior to the job and rewind the cable after the job is over. The air compressor and twin water tanks work in unison to clean the cable and equipment at the end of the job as it exits the pulling pit. Instead of waiting for the backhoe to free up the pipe bursting team is able to focus on retrieving the equipment while the rest of the team can concentrate on reconnecting the pipeline. "In the 18 years of marketing pipe bursting equipment, this is the most exciting innovation we've taken from concept to reality," CEO Carter said. Roger Lighthart, long term TRIC Customer, said, "Do I like this unit? 'Oh, yeah!' In 40 minutes you pull 100 feet of mainline pipe (from start of pull to breakdown) and you're on the road home."
For more information about Trenchless Pipe Bursting equipment or the Trenchless Industry in general - please call 888-883-8742 or visit TRIC's website at: http://www.trictrenchless.com to see how they can answer any of these questions for you. Get your Trenchless Sewer and Water Replacement service off on the right foot, and help get your profitably pipe bursting.