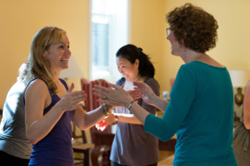 The consensus she created amongst the differing opinions was invaluable to our own design process and the sessions themselves were fun and enjoyable...
Washington, DC (PRWEB) June 23, 2015
Mindhatch LLC, an organizational and customer insights firm dedicated to the merging of business and creativity through human-centered approaches, has earned a new certification in Creative Facilitation and Design from Retreats that Work™. With this certification, Mindhatch expands its slate of creative methods available for retreats, offsite gatherings, and conferences held by companies looking to improve organizational effectiveness, obtain buy-in for organizational change, and harness the creativity of staff.
Coonoor Behal, Founder of Mindhatch, draws on her previous experience as a strategy and innovation consultant at Deloitte Consulting LLP where she was trained in Advanced Facilitation. Behal uses her facilitation expertise to design and deliver workshops that help teams pursue business challenges creatively, while keeping real-world requirements in mind. Behal and her team of facilitators use a combination of human-centered methodologies, techniques from improvisation, and team building exercises to activate "groupmind" collaboration - and avoid innovation-damaging "groupthink" - to help clients uncover valuable customer and staff insights. Clients are led on a path that identifies current challenges and then are guided through an experiential process to resolve those critical issues.
Mindhatch's current Design Thinking offerings include facilitated workshops that train staff to apply creative problem-solving methods to the launch of a new product, service, or experience, or to the improvement of existing offerings. Mindhatch's Innovation Facilitation workshops focus on harnessing staff creativity and ideation to support business objectives, while the Organizational Improv workshops use methods from improvisational comedy to develop professional skills, such as leadership, communications, collaboration, and customer service. As the Executive Director and CEO of MakeDC, Inc., a Mindhatch client, notes, "She [Coonoor Behal] was able to lead and facilitate the discussion amongst the various stakeholders by designing and delivering engaging activities. The consensus she created amongst the differing opinions was invaluable to our own design process and the sessions themselves were fun and enjoyable..."
With its new certification, Mindhatch will continue to deliver excellence in group facilitation, team building, and organizational process improvement by focusing on exercises and techniques that will foster creativity and collaboration among teams. Additionally, Behal is now able to apply the certified Retreats That Work™ methodology, including a new exercise she co-developed that helps clients address accountability between teams.
About Mindhatch LLC
Mindhatch is an organizational and customer insights firm that believes the best insights come from employees and customers. Through design thinking, organizational improv, and innovation facilitation, Mindhatch uncovers valuable customer and staff insights that enable actionable results for organizational improvement. To learn more about Mindhatch's current consulting and workshop offerings or to inquire about a custom offering, please visit http://www.mindhatchllc.com.
Media Contact
Media inquiries should be directed to Coonoor Behal at coonoor(at)mindhatchllc(dot)com.