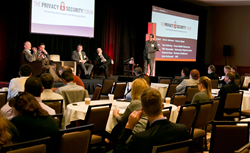 The forum will deliver best practices, solutions, and lessons learned from leading privacy and security experts.
Chicago, IL (PRWEB) June 17, 2015
Healthcare professionals nationwide will convene in Chicago on June 30 - July 1 for the Privacy & Security Forum. Produced by HIMSS, the Privacy & Security Forum will focus on how leading healthcare organizations are protecting data and managing risk in the ongoing battle to reduce cyberattacks and insider threats.
"Healthcare security professionals are significant targets in the rapidly evolving landscape of cyberattacks and data breaches," said John Whelan, Executive Vice President of HIMSS Media. "The Privacy & Security Forum will help these professionals combat the continuously increasing speed and scope of attacks. The forum will deliver best practices, solutions, and lessons learned from leading privacy and security experts who will provide the latest updates on protecting data and managing risk."
Topics to be covered at the forum include, cybersecurity best practices, HIPAA omnibus updates, authentication & authorization, the role of CISOs and CIOs, incident response essentials, mobile device security, preventing phishing attacks, and protecting modern medical devices. Presenters include leading healthcare organizations such as Blue Cross and Blue Shield, Carolinas Healthcare System, the FBI, Intermountain Healthcare, Johns Hopkins University, Kaiser Permanente, Mayo Clinic, Stanford Health Care, U.S. Department of Health and Human Services, UPMC, among others.
To demonstrate their support of the Forum and the value it provides to attendees, several health IT thought leaders have signed on as sponsors of the event, including:

Exabeam - A leading provider of user behavior intelligence solutions, Exabeam is unlocking the potential of existing SIEM and log management big data repositories to fundamentally change the way cyberattacks are detected and simplify security operations.
Experian Health - Experian Health harnesses the power of its data analytic expertise and cutting-edge technology to deliver innovative solutions to the healthcare industry. Hospitals, health systems, medical groups, payers, pharmacies and labs all leverage Experian Health solutions to ensure patient privacy and security; improving patient access and engagement, while proactively managing care; verifying, matching, and protecting consumer identities.
Symantec - Symantec's healthcare solutions provide security, data loss prevention, and HIPAA compliance automation designed to assist healthcare organizations in protecting their business-critical systems and protected health information (PHI).
For complete program information, please visit chicago.healthprivacyforum.com.
If you cover the healthcare industry or the technology industry, the forum will provide you with access to the leading experts in the field. Press & media passes are available to qualified individuals but space is limited. Contact Peggy Diab to receive your pass and to set up interviews with speakers or HIMSS representatives.
About HIMSS
HIMSS is a global, cause-based, not-for-profit organization focused on better health through information technology (IT). HIMSS leads efforts to optimize health engagements and care outcomes using information technology. HIMSS is a cause-based, global enterprise producing health IT thought leadership, education, events, market research and media services around the world. Founded in 1961, HIMSS encompasses more than 52,000 individuals, of which more than two-thirds work in healthcare provider, governmental and not-for-profit organizations across the globe, plus over 600 corporations and 250 not-for-profit partner organizations, that share this cause. HIMSS, headquartered in Chicago, serves the global health IT community with additional offices in the United States, Europe, and Asia.