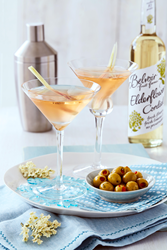 A classic Martini with a few summery twists
New York, NY (PRWEB) June 17, 2015
The sounds of summer are here… Since ancient times, the blooming and harvesting of the elderflowers has indicated the start of the summer. To celebrate the short elderflowers harvest, Belvoir Fruit Farms, behind of the famous Elderflower Belvoir lemonades and cordials, has partnered with Joanna Simon, drink expert, asking her to share her favorite elderflower cocktail recipe for the summer.
"I love using elderflower cordial in cocktails and mocktails. Its infinitively versatile, adds an instant refreshing note, a delightful floral, fruity flavor and a sweetness that means you don't need to use sugar syrups," says the drink expert.
A classic martini with minor twists inspires Joanna Simon's Belvoir Elderflower Allegretto: " Transform the Martini into a delicious sparkling wine by simply serving it in a champagne flute and topping it with Prosecco, make it less dry by adding more elderflower cordial", she adds.
Serves one

Half stick of lemon grass (base trimmed, any dried-out outer leaves removed, halved lengthways)
50ml gin
10ml French dry white vermouth
2 dashes peach bitters
10ml Belvoir Elderflower Cordial
Ice
Glass: chilled martini. You also need a mixer glass (or cocktail shaker).
It can be served with or without the lemon grass baton. If serving with the lemon grass, trim it so that when resting in the martini glass it extends 1–1.5cm above the rim. Put all the liquid ingredients in the mixer glass, fill with ice to ¾ full. Stir with the lemon grass rapidly for about 30 seconds, and then strain into the martini glass leaving the ice behind.
Give this recipe a try and enjoy the summer gatherings.