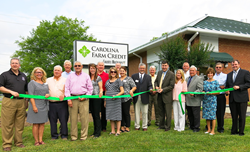 Statesville, North Carolina (PRWEB) June 18, 2015
Vance C. Dalton, Jr., CEO of Carolina Farm Credit, announced that on Monday, June, 8, 2015, the Roxboro branch of Carolina Farm Credit hosted an open house event at their newly renovated location at 607 Leasburg Road, Roxboro, NC.
The event featured a welcome and introduction of guests by Carolina Farm Credit Regional Lending Manager Fred Pittard, invocation by Person County Sheriff Dewey Jones, and special comments from Carolina Farm Credit CEO Vance Dalton, Carolina Farm Credit Chairman of the Board Mark Bray, Roxboro Area Chamber of Commerce Board of Directors Chairman Derrick Sims, Roxboro City Councilman Mark Phillips, and Person County Board of Commissioners Chairman Kyle Puryear. Special comments were followed by a ribbon cutting ceremony.
The 2,000 sq. ft. office was renovated by MCT General Contractors, Inc. in Monroe. The renovation included extensive upgrades and improvements to the inside of the office as well as a new metal pitched roof. The project was started in October of 2014 and completed this March.
"The newly renovated building allows us to enhance customer service and better meet the needs of our Person County customers," said Vance C. Dalton, Jr., CEO of Carolina Farm Credit.
Carolina Farm Credit is a stockholder-owned cooperative providing financing to full and part-time farmers and agricultural-related businesses and also provides financing for the construction and purchase of homes in 54 counties through 36 branch offices. Other financial services available are credit life insurance, crop insurance, appraisal services, leasing programs and financial planning.
Carolina Farm Credit serves over 9,200 members with loans outstanding totaling more than $1.4 billion. The association's territory covers the western half of North Carolina, with branch offices located in Albemarle, Asheboro, Asheville, Boone, Browns Summit, Burnsville, Carthage, Concord, Conover, Ellerbe, Graham, Hendersonville, Hillsborough, Jefferson, Lenoir, Lexington, Lincolnton, Marshall, Mocksville, Monroe, Murphy, Pilot Mountain, Roxboro, Rural Hall, Salisbury, Shelby, Siler City, Sparta, Spindale, Statesville, Taylorsville, Wadesboro, Waynesville, Wilkesboro, Yadkinville, and Yanceyville.
Carolina Farm Credit was recognized as a 2015 Best Employer in North Carolina. The list of the Best Employers in North Carolina was created by Business North Carolina, the Society for Human Resource Management (SHRM) – NC State Council and Best Companies Group.
Directors for Carolina Farm Credit are Mark A. Bray, Chairman, Lawsonville; L. Kim Starnes, Vice-Chairman, Salisbury; John M. Barnard, Statesville; E. Bernard Beck, Seagrove; W. Rex Bell, Statesville; David M. Coltrane, Pleasant Garden; Susie J. Gambill, Sparta; Joseph A. Lail, Shelby; Clark M. Newlin, Haw River; Thomas E. Porter, Jr., Concord; Tony L. Ragan, Sanford; D. Kaleb Rathbone, Waynesville; Lewis E. Smith, Lincolnton; Vickie N. Smitherman, East Bend; Dr. Alton Thompson, Summerfield.