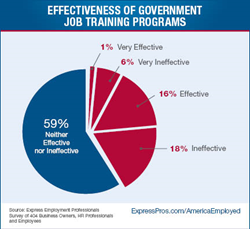 OKLAHOMA CITY (PRWEB) June 17, 2015
Express Employment Professionals today released survey results on the effectiveness of job training programs. Results show very little confidence in such programs among employers.
In a survey of businesses, respondents were asked, "How effective are government job training programs?"
Of those surveyed, 16 percent said they are "effective," while one percent said they are "very effective." Meanwhile, 18 percent called them "ineffective" and six percent see them as "very ineffective."
A majority, 59 percent, said they are "neither effective nor ineffective."
"There's been much discussion about the skills gap in America; employers can't find workers with the right skills. Ideally, government job training programs would be helping to fix this problem, but this survey shows that employers don't have much faith in them. The simple fact is, 83 percent of businesses don't see these programs as effective," said Bob Funk, CEO of Express, and a former chairman of the Federal Reserve Bank of Kansas City.
"A successful job training program would equip workers with the most in-demand skills, allowing them to take advantage of current jobs openings in new fields."
The survey of 404 businesses was conducted in December 2014 and January 2015. Results have been released periodically throughout the year as part of Express Employment Professionals "America Employed" series.
If you would like to arrange for an interview with Bob Funk to discuss this topic, please contact Sherry Kast at (405) 717-5966.
About Robert A. Funk
Robert A. "Bob" Funk is chairman and chief executive officer of Express Employment Professionals. Headquartered in Oklahoma City, the international staffing company has franchises in the U.S., Canada and South Africa. Under his leadership, Express has put more than five million people to work worldwide. Funk served as the Chairman of the Federal Reserve Bank of Kansas City and was also the Chairman of the Conference of Chairmen of the Federal Reserve.
About Express Employment Professionals
Express Employment Professionals puts people to work. It generated $2.85 billion in sales and employed more than 456,000 people in 2014. Express ranks as the largest franchised staffing company and second largest privately held staffing company in the United States. Its long-term goal is to put a million people to work annually.