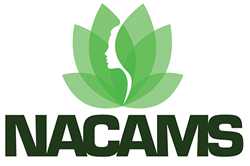 Ponte Vedra Beach, Fla. (PRWEB) June 17, 2015
NACAMS, the leading national association for health, wellness, and beauty professionals, is elated to announce the launch of its newly redesigned, responsive website, located at http://www.nacams.org/. The new site offers professionals a digital hub of resources, where they can easily find, read, and engage with the information necessary to build a practice, market services, and perform to industry standards.
NACAMS emerged in early 2011 as an association for complementary and alternative medicine practitioners and has since grown exponentially. Drawing on the connection between internal and external wellness, the association evolved to include beauty professionals, offering complete support for spa and wellness practices around the nation.
Membership now comprises more than 350 health, wellness, and beauty professions: cosmetologists, estheticians, nail technicians, Pilates instructors, dance and barre instructors, movement therapists, yoga teachers, reiki practitioners, massage therapists, reflexologists, and more.
The association's contributions have likewise expanded over the years. NACAMS now offers ample educational resources, practice support, marketing materials, information on state requirements, and access to liability insurance for its members.
The site's modern, simplified design—combined with fresh content, accessible customer service, and optimization for all devices—provides an elevated user experience, as well as an easier enrollment process. Simply select your respective profession in the navigation bar to find the following information, tailored to your field:

State requirements grid, offering instant access to certification, licensure, continuing education, and insurance requirements, as designated by each state board
Featured articles and insights, offering information on industry trends, popular styles within each discipline, and other frequently asked questions
Comparison of insurance providers, detailing the rates, coverage types, and benefits of all major liability insurance programs
Overview of NACAMS Insurance Plus, including coverage limits, covered modalities relevant to your specific field, and an application for signup
For insurance needs, explore NACAMS' membership options for students and professionals, a complete list of modalities covered, and an insurance guide that delineates coverage types and terminology. Members who enroll in NACAMS Insurance Plus receive professional and general liability insurance, product liability, rental damage insurance, identity protection, and stolen equipment coverage—plus access to a free website and exclusive member discounts.
To learn more about the nation's premier association for health, wellness, and beauty professionals, call 800-964-0158 or visit http://www.nacams.org/.