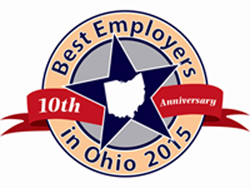 Findlay, Ohio (PRWEB) June 16, 2015
Plumbline Consulting, LLC was named as one of the 2015 Best Employers in Ohio! The annual list of Best Employers in Ohio is managed by the Ohio SHRM State Council and Best Companies Group, who recently released the final rankings for this prestigious nomination. As a leading technology consulting firm, Plumbline Consulting was ranked 3rd on the list of the finalists selected within the small/medium business category.
To be selected as one of the Best Employers in Ohio, companies from across the state enter into a two-part survey process. The first part consists of evaluating each nominated company's workplace policies, practices, philosophy, systems and demographics. The second part consists of employee surveys taken to measure the employee experience. Best Companies Group evaluated the data and used their expertise to determine selections and final rankings for their "best of the best" list of Ohio employers that create and maintain workplace excellence.
Todd Michael, General Manager of Plumbline Consulting, states "Our team is ecstatic to achieve such a high ranking this year. We have participated in the Best Employers in Ohio survey process for several years and each time our ranking has improved, due to continued improvements in our workplace. We use the employee feedback generated through the Best Employers survey process to identify ways to enhance our employees working experience and to empower them to deliver the best services possible to our clients, partners and community."
"It is a great honor for Plumbline Consulting to be recognized as 3rd on the list of the Best Employers in Ohio for small to medium sized companies. We have very talented and committed employees who use innovation and collaboration to drive excellent results. Our thanks go out to our employees for helping us to achieve this recognition and also to our local community that supports business success," adds Joseph Longo, President of Plumbline Consulting.
About Plumbline Consulting
Plumbline provides software engineering and consulting services for Microsoft, Microsoft Dynamics® Channel Partners and Microsoft Independent Software Vendors (ISVs). Plumbline offers software development, application support, technology and business process consulting, with a focus on delivering excellence and building lasting relationships. Plumbline also provides Dynamics SL product management services for Microsoft Corporation. The company is headquartered in Findlay, Ohio. More information about Plumbline Consulting can be found at http://www.plumblineconsulting.com.
###
Media Contact:
Diane Wienczkowski
419.581.2973
info(at)plumblineconsulting(dot)com