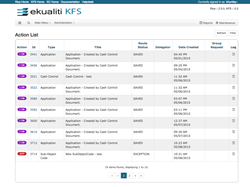 San Diego, CA (PRWEB) June 18, 2015
Vivantech, a leader in consulting and development of enterprise grade, open-source and commercial software has announced its cloud-based financial solution Ekualiti KFS. The solution is the latest addition to the Ekualiti suite of ERP applications.
Vivantech created Ekualiti KFS in response to the need for an affordable, comprehensive financial solution that is quick to deploy, highly-scalable, and easy to use and navigate. From determining your Chart of Accounts, to recording transactions to the General Ledger, Ekualiti KFS is the perfect solution for managing, processing and tracking your institution's financial transactions.
In the past, KFS users were challenged by an outdated user interface and complex navigation issues. Vivantech addressed this as a top priority when developing Ekualiti KFS. A distinct improvement is the modern and intuitive user interface with a clean look and feel, sleek menus and updated screens on top of a proven stable financial system complete with Purchasing, A/P, Capital Asset Management, A/R and the hooks to easily communicate with your established line of business systems.
Vivantech's Ekualiti KFS is customizable through the Ekualiti Customization Framework, which allows institutions to tailor their Ekualiti instance to their unique needs and requirements. With this flexibility, institutions are able to create and manage customizations to the system ranging from changing tables to adding new database fields.
The Ekualiti SaaS offerings also include Ekualiti Rice with Visual Workflow for business process automation and Ekualiti KC for research and grants administration
To see more Ekualiti KFS, watch this 4-minute video…
https://youtu.be/VjNLZ0Np6ag
Ekualiti Visual Reports (EVR) allow users to create reports, charts and dashboards!
Users can launch a report in various formats including graphs, and get immediate results to analyze institutional data. A simple click brings users to the data behind that graph. It couldn't be easier to investigate the information needed to make good business decisions.
EVR gives the user the flexibility to edit reports by simply dragging and dropping adding filters or changing criteria.
Ekualiti KFS enhancements are a top layer, so the improvements come without compromising the tested and proven accounting functionality of the system. Additionally, Vivantech offers the Ekualiti KFS solution as a private cloud option through Red Hat's OpenShift™ technology as an alternative to the Public cloud deployment via the Amazon Web Services (AWS) cloud. The company is unique in offering these cloud options through their partnerships with AWS and Red Hat.
About Vivantech
Established in 2003, Vivantech has been serving higher education and research institutions for nearly 12 years with open source and commercial ERP software services, cloud-hosted SaaS and systems integration. The company has established a stellar track record through its contributions to numerous high visibility implementations in which it was responsible for guiding institutions through configuration, implementation and ongoing support of open source packages such as Kuali and commercial platforms such as Workday.
Vivantech has expertise in the Kuali Financial System, having worked with it since 2007. Additionally, Vivantech provides KFS support and has comprehensive knowledge of the delivered KFS functionality.
A leading professional services company, Vivantech has established itself as the most trusted and innovative commercial partner for its clients.
###