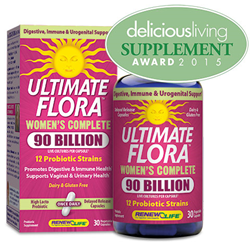 Ultimate Flora Women's Complete has become one of our best-selling probiotics because it supports not only digestive and immune health, but also vaginal and urinary health.*
Clearwater, FL (PRWEB) June 23, 2015
Ken Vargha, Renew Life's Senior Vice President of Sales and Marketing stated, "Renew Life introduced Ultimate Flora Women's Complete in 2013 to target a woman's unique needs so they always feel their best.* It has become one of our best-selling Ultimate Flora probiotics because it supports not only digestive and immune health, but also vaginal and urinary health.* We're committed to helping our consumers feel better about their digestive health and are honored that Delicious Living has recognized this quality probiotic two years in a row." Delicious Living is a monthly consumer magazine focused on healthy lifestyles.
High-potency and multi-strains are important to support the gut's natural harmony of over 100 trillion diverse bacteria.* Ultimate Flora Women's Complete Probiotic is a high-potency, multi-strain probiotic with 90 billion live cultures and 12 strains per capsule of the most scientifically researched, beneficial probiotic bacteria—Bifidobacteria and Lactobacilli. It is designed to re-establish digestive balance and support immune health, and contains Lactobacilli to promote vaginal and urinary health.* Packaged in Renew Life's signature Fresh-Assure glass bottles, Ultimate Flora Women's Complete Probiotic is dairy and gluten-free and features delayed-release capsules to help protect the probiotics from stomach acid.
Renew Life Ultimate Flora Women's Complete 90 Billion Probiotic is sold by natural health food stores everywhere.
Digestive Wellness, Naturally
Renew Life believes that better health begins with better digestion. For nearly two decades Renew Life has formulated superior-quality digestive care supplements to help people achieve optimal health from the inside out.* The company stands behind the purity, potency, and efficacy of every product, and its commitment to help people renew their lives through good digestive health.
For additional information on Renew Life's Ultimate Flora™ Women's Complete 90 Billion Probiotic, please contact bcooper@renewlife.com
*These statements have not been evaluated by the Food and Drug Administration. This product is not intended to diagnose, treat, cure, or prevent any disease.