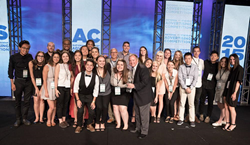 Students learn that a deep understanding of consumer behavior is critical before they can begin to influence it through advertising.
WESTERVILLE, Ohio (PRWEB) June 17, 2015
The winning details can all be found in the hard data! That's why it's a big win for the University of Oregon team, winners of the National Student Advertising Competition (NSAC). The team earned the AdMall Best Use of Marketing Research Award during this year's American Advertising Federation (AAF) national conference, held June 10-13 in Las Vegas at Caesar's Palace. Oregon bested more than 140 participating teams.
The 2015 NSAC required AAF college chapter teams to develop a written integrated marketing campaign proposal and a 20-minute presentation in response to a real-world case study, co-authored by Pizza Hut and the AAF Education Services Department. They also conducted primary and secondary research that revealed consumer insights; identified the target market wants and needs; and pinpointed how to effectively communicate the client's message.
For the sixth year, the AdMall Best Use of Marketing Research Award was presented to the team that best demonstrated the use of any source of market research in the development of their campaigns. As a research partner for the annual competition, AdMall provides access to its database of market research reports to all competing teams.
"We were blown away by the level of strategic sense and ingenuity each finalist demonstrated as it relates to research," says Jared Drinkwater, Vice President of National Marketing for Pizza Hut. "From qual, to quant, to in-home, to focus groups, they were able to uncover real, actionable insights on a shoe string budget which is no easy feat."
Barry Shawgo, Vice President of Sales for AdMall adds, "I was fortunate to participate in the National Student Advertising Competition when I was in school and it was one of the most "real-life" experiences of my college career. The competition really helped prepare me for my professional career better than any classroom learning. We are glad that we are able to support this outstanding program that helps future advertising professionals in such an impactful way."
David Koranda is the advisor of the winning University of Oregon team. He says the experience for team members is invaluable.
"The students did a fantastic job of creatively solving a business problem for Pizza Hut. It was challenging since most consumers didn't think they had a problem connected with the way they order pizza," says Koranda. "The students honed their skills in research, strategy, creative, media and presenting that will help set the tone for long and successful careers. I'm proud of them for digging deep and putting in the time, thought and effort needed to develop what they did. The students and I are deeply appreciative for the opportunity provided by Pizza Hut and the AAF."
C. Lee Smith is President/CEO of Sales Development Services, the company behind AdMall and former NSAC participant himself for the Ohio University team in 1988. "We're proud to partner on the "Best Use of Marketing Research" award because students learn that a deep understanding of consumer behavior is critical before they can begin to influence it through advertising and marketing," Smith said.
The AdMall Best Use of Marketing Research Award was known as the Ad-ology Research Award during the company's first five years of sponsorship.
ABOUT ADMALL FOR AGENCIES
AdMall for Agencies is the most powerful advertiser business intelligence available for agencies, generating millions in new business for clients. AdMall for Agencies quickly gives full-service advertising agencies, in-house marketing agencies or specialty firms access to valuable marketing insights essential for local/regional advertising and digital marketing. It is accessible from desktop, smartphone or tablet, giving agencies what they need without wasting billable hours.
AdMall for Agencies features local account intelligence for 450+ business types, 1,400+ major advertiser profiles and marketing opportunities, automotive intelligence featuring Polk® data, pinpoint mapping showing best customers and spending, co-op/NTR data, market intelligence for categories with demo reports and consumer spending down to zip, audience intelligence for more than 1,000 audiences for attitudes/lifestyle/media usage/purchase intent. A separate version, known as AdMall PRO, is available for media sales professionals.
ABOUT SALES DEVELOPMENT SERVICES
Sales Development Services, Inc. provides the tools, training and intelligence for developing sales by media, advertising agencies and in-house marketers. The firm's core philosophy is to empower its clients to deliver greater value to their clients. Products and services include the AdMall® and AdMall for Agencies product line to enhance the ability of media sales executives and advertising agencies to speak intelligently about every advertiser's line of business and sales-building opportunities. SalesTouch® is the Smarter CRM for Media Sales with predictive analytics for every account. SalesWire® is an interactive pipeline manager for media sales, providing personalized, daily direction for media salespeople. SDS also offers online audience optimization via AudienceSCAN®, SDS also offers an annual, proprietary State of Media Sales Survey™. It is the most comprehensive independent study to identify the current landscape and emerging media sales trends and is widely anticipated within the space. For more information, current thought leadership and firm philosophy, visit our website at SalesDevelopment.com, our Media Sales Today™ blog and learn our 10 Guiding Principles.
ABOUT THE NSAC
Through the National Student Advertising Competition (NSAC), the premier student advertising competition in the nation, students from across the country are challenged to develop high-level integrated marketing campaigns for some of the country's most recognizable brands. Each year a corporate sponsor provides a case study of its current advertising situation to challenge students' critical thinking abilities and creativity.
Each year, the AAF partners with a major corporate client to challenge college chapters across the country to develop an integrated marketing campaign for a specific product, service or brand aimed at diverse target markets. The corporate sponsor provides a case study outlining the company's campaign objective, the history of its product and its current advertising situation. The case study reflects a real-world situation facing the company. Students must research the product and its competition, identify potential problem areas and collaborate to devise a completely integrated marketing campaign for the client.